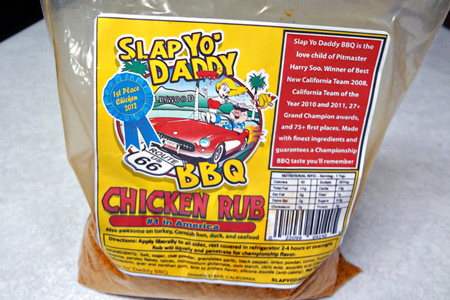 I'm always eager to try new barbecue rubs. As a competitor I am especially interested in trying products that are
winning big time
out on the competition circuit. However, this particular rub had me so intrigued that I ordered some shortly after it became available.
Why was I so anxious to try the
Slap Yo' Daddy Chicken Rub
? Well, I've been a fan of Slap Yo' Daddy pitmaster Harry Soo since I saw him on the first season of the
BBQ Pitmasters
series in late 2009. He had many of the traits that I admire in any cook; he was humble, friendly, tenacious, highly-skilled, and you could immediately tell that he's a man who passionately enjoys his craft. He's also very open about his techniques and is willing to teach people. He strives to spread what he calls "barbecue happiness".
Then in 2010 I got to meet and compete against Harry here in Boise where he
beat me (and most of the rest of the field)
like a rented mule. He was on a serious tear that year, as he's been for his entire competitive barbecue career. I distinctly remember him going around to each team and offering to teach people how to build a turn-in box. It's exceedingly rare for a competitor to offer that kind of help to people who are there to beat you, but that's Harry. Since then he's gone on to be named
2012 KCBS Chicken Team of The Year
.
Last November Harry and I met again at the
Kingsford Invitational
where he was a judge. During our time there they held a panel discussion where the judges discussed various aspects of barbecue and competition. It was during that panel that Harry said something that sparked some serious curiosity. He said that the secret to the color of his competition chicken is Tang. Yes, Tang, that NASA-born powdered orange drink mix. It struck me as so odd that I thought that I had misunderstood what he said. "Surely he didn't say Tang!", I thought to myself.
After the panel I found Harry and asked him about his unusual ingredient. He explained that he approaches his competition barbecue like a series of Lego-like components where each piece has to fit to make a perfect whole. His Tang epiphany came to him as he was working on the color block. It's this kind of unconventional thinking that shows what a masterful technician Harry is.
So, when Harry introduced his new rub I knew that I had to try it immediately. I wrote him an e-mail and asked if I still needed to use the coat of Tang under the rub and he replied, "It's designed to be used as the only rub so you don't need to add anything else or other products. It's championship chicken in one easy-to-use rub package." Ascorbic acid and artificial color are listed as ingredients, so clearly he has incorporated his secret ingredient.
To give the rub a true test I used it for a competition test cook using the instructions on the bag. I trimmed the chicken thighs, coated them liberally on all sides with the rub, then let them marinate several hours.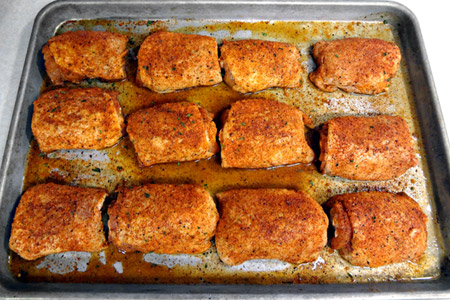 Just before cooking I touched up the rub to ensure that I had a nice uniform coat with no bald spots. Next I arranged them on the (oiled) rack for my
Pit Barrel Cooker
.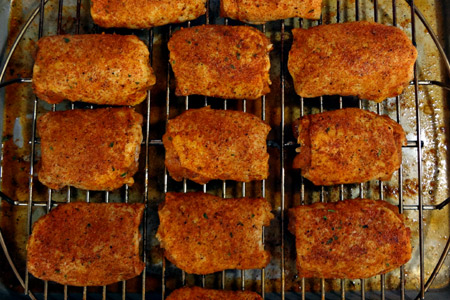 I cooked them over plain Kingsford® Original briquets (no smoke wood) to an internal temperature of 170º.
For sauce Harry recommends, "
KC Masterpiece® with honey
, hot sauce to your liking, and diluted with apple juice so that the sauce goes on thinly and not goopy." For mine I thinned
Sweet Baby Ray's Original
with unsweetened pineapple juice and added some honey and
Franks® RedHot®
.
Using tongs I gently dunked each thigh in warmed sauce twice, letting them cook about 10 minutes between coats. Dunking ensures a perfectly uniform coating with no brush marks. It also helps avoid brushing the rub off of the skin.
I garnished a standard turn-in box, added the chicken, then closed the box for 10-15 minutes.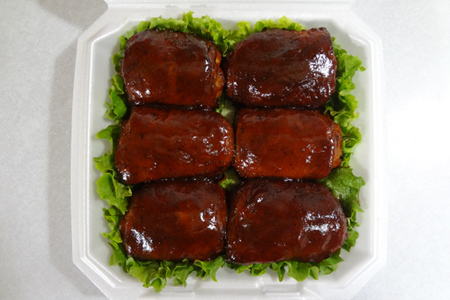 Here's a closer view. Check out that color!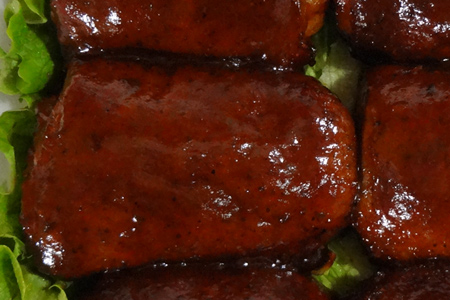 They were moist, juicy, slightly smoky, with just the right balance of salt, sweet, tang, and spice. The skin was bite-through. The thing that really impressed me is the great first-bite burst of flavor. That's exactly what you want for competition chicken because the judges typically take only one or two bites of each entry. You need a rub that really makes them take notice, and Harry's certainly does.
As you can no doubt tell by now that I recommend this rub very highly. It's not just for competition, so get some and take it for a spin.
Disclaimer:
I purchased the rub at full retail price, and I was not compensated in any way for this review.