John Dawson
Permanent Link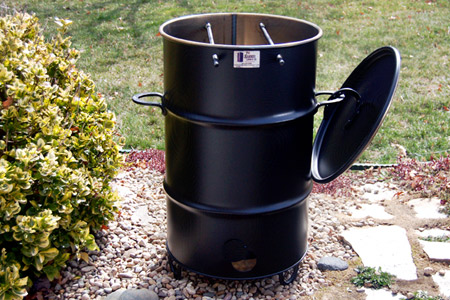 Daddio has a new toy! The great folks at the Pit Barrel Cooker Company sent me one of their cookers to test drive. I haven't fired it up yet, but I wanted to give you an introduction and share my first impressions.
I'm very familiar with drum cookers. I
built two
of what is known as an "Ugly Drum Smoker" (UDS) in 2008 for use in competition, and they've become my go-to smokers. Drum cookers are very simple in design, easy to use, extremely versatile, and they generally produce consistently outstanding barbecue.
When I first saw and read about the Pit Barrel Cooker (PBC) online my first thought was, "OK, it's yet another incarnation of a UDS." However, as I looked beyond the surface I discovered that, while it is similar to a UDS, it's also really different.
Homemade drum cookers are usually made from recycled 55-gallon drums. The PBC is made from a brand new 30-gallon drum. Once you get past the size difference the rest of unit is very reminiscent of a standard drum cooker — except for a few major differences.
The first major difference is that the PBC is very well-made. The thing is quality from top to bottom. Even the packaging was first-class. Here, let me show you what I mean.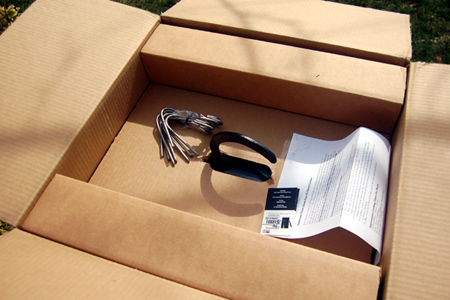 As soon as you crack the box the horseshoe handles are a great testament to this being a made-in-America cooker, and to its western (Strasburg, Colorado) roots.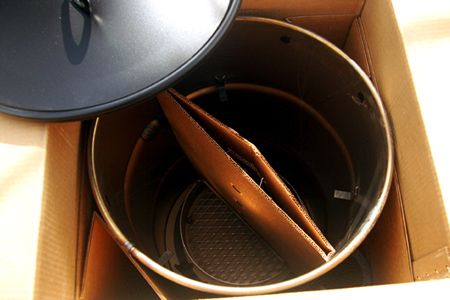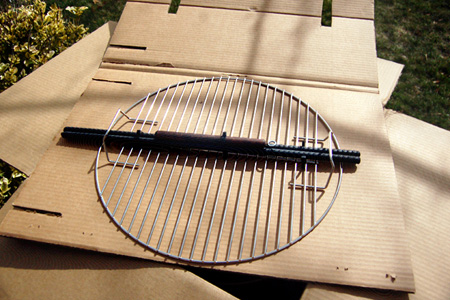 17 1/2" rack, hanging rods and hook grabber (more about those later).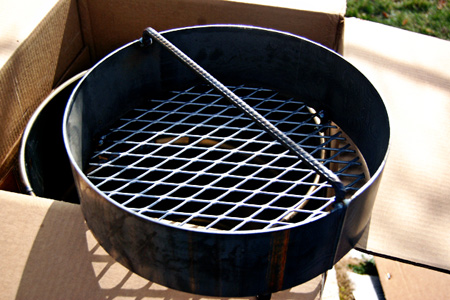 The charcoal basket is built like a tank!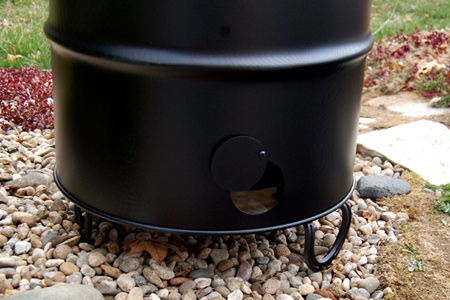 It has a separate base with horseshoe feet to elevate it to keep it from burning your deck or grass.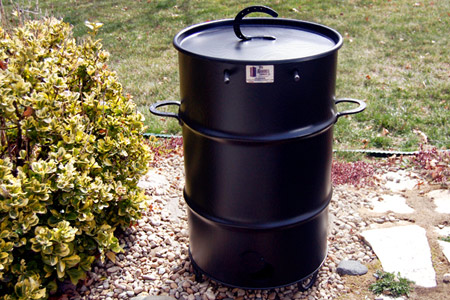 Check out the durable and weather-resistant high-heat powder coat finish.
The next major difference is that the PBC is designed and built to be a set-it-and-forget-it cooker. You don't have to guess about how much charcoal to use, or how to set your intake and exhaust dampers. You load the same amount of coals each time, and the intake is pre-set (though still adjustable — see the picture above). This is a great feature. Most folks don't want to deal with tending a fire and managing airflow.
Undoubtedly the biggest difference is how you cook on the Pit Barrel Cooker. While there is a standard rack, as you see above, the preferred method is to hang the meat from rods using the included (eight) stainless steel hooks (shown in the second picture).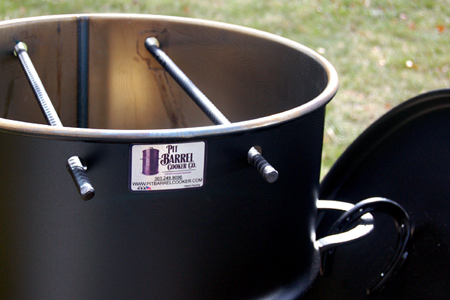 This is the part that intrigues me. Hanging the meat certainly maximizes the cooker's capacity, but I don't know how it works with food that might fall, like ribs. I suppose that's where the rack comes into play.
I'm really excited to get this thing dirty. If it cooks half as well as it's built it will be an outstanding addition to my barbecue stable.
While you're waiting for my post-cook review, head on over to the Pit Barrel Cooker Company site and check out some
how-to videos
. You can also read an interview with the president of the company, Noah Granville at
Grilling.com
.
Disclaimer:
The Pit Barrel Cooker was provided to me free of charge for the purpose of this review, but the thoughts expressed are entirely my own.
Labels: pit barrel cooker, review