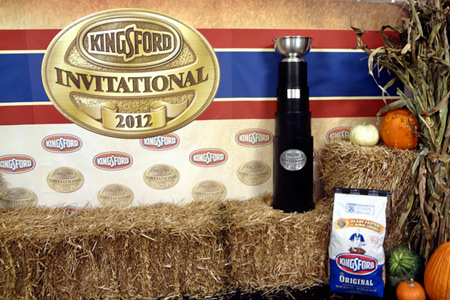 As I
mentioned earlier
, I attended the first annual Kingsford Invitational barbecue competition as a spectator last weekend. This is the first of my series of posts covering this great event.
First, let me thank the great folks at
Kingsford
and
Current
(their PR firm) for the invite, and for a great time. I'm always impressed at how good this team is at putting on a first-class event. They are truly a pleasure to work with.
The competition was held in Belle, Missouri, but we all flew in and out of St. Louis. I spent my teen years growing up just two hours West (in Columbia) and it was nice to be back in Missouri. While in St. Louis we stayed at the
Four Seasons
. As you can see, the rooms were great.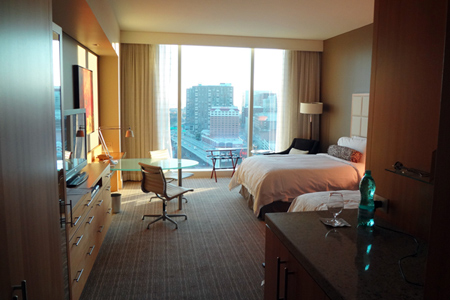 My room overlooked the arch.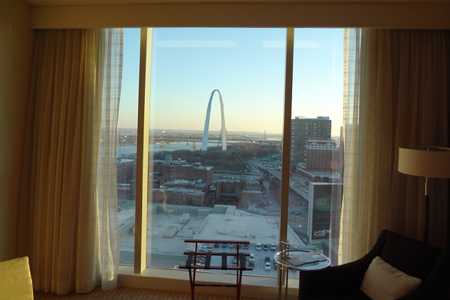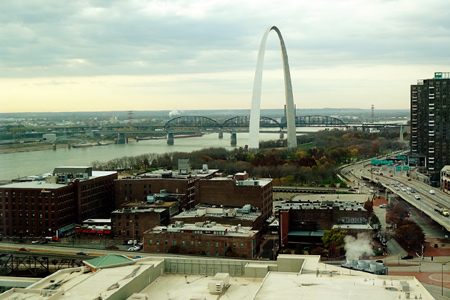 After arriving at the hotel I had to wait a while for my room to be ready, so I text'd my buddy and barbecue whisperer Meathead of
Amazing Ribs
and he joined me in the bar. Next we called Greg Rempe of
BBQ Central Radio
fame and he came down to hang with us.
People kept trickling into the hotel and soon we were joined by a serious crowd of fellow barbecue friends, some of whom I'd never met. Among the group were
Chris Lilly
,
Tuffy Stone
,
Amy Mills-Tunnicliffe
(daughter of Mike Mills), Brad and Craig "Daddy-O" Orrison of
The Shed
, Robyn Lindars of
GrillGrrrl.com
, and Derrick Riches of
About.com
. It was really nice hanging out and talking about our shared passion and the competition ahead.
Next we all got on a bus and headed to a farm-to-table dinner at
The Farmhaus
. Before we were served the folks from Kingsford welcomed us, and Chris Lilly talked about the current food trends, and little bit about the competition.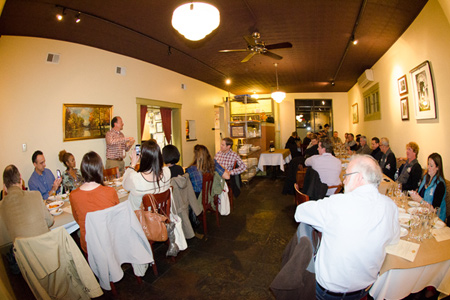 As you'd expect at a restaurant like this, the menu featured a variety of locally-sourced seasonal ingredients. I ordered the sweet potato nachos with bleu cheese and bacon, butternut squash soup with a jalapeno doughnut, a grilled pork chop with house sauerkraut and mustard reduction, and smoked apple pie with house-made vanilla ice cream for dessert.
After dinner we headed back to the hotel to rest up for the next day's events, which I'll cover soon.
Related posts:
Kingsford Invitational - Part Two
Kingsford Invitational - Part Three