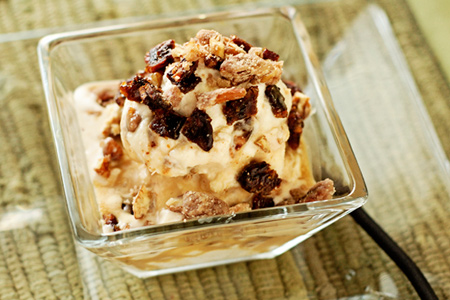 Earlier this month I posted my
Pig Pralines recipe
and I promised that they would be used in ice cream. Well, the time has come and here it is.
This is a serious experiment in porcine dessert indulgence. It's rich and creamy homemade vanilla ice cream with tidbits of pig candy and bacon-infused pralines riddled throughout. The savory, sweet and slight spiciness of the bacon are magical with the cool creaminess of the ice cream.
For the ice cream I used my old-school
White Mountain ice cream maker
and a really simple no-cook (some may say cheater) base recipe. You can use your favorite recipe in whatever ice cream maker you have.
Ingredients
3 cups Heavy whipping cream
2 cups Whole milk
1 can (14 oz) Sweetened condensed milk
2 Tbsp Vanilla extract (the real stuff, please)
7 slices
Pig Candy
, chopped
1 cup
Pig Pralines
, rough chopped
Method
Combine the cream, milk, condensed milk and vanilla in a large mixing bowl and whisk well until all of the ingredients are completely incorporated. Cover and refrigerate.
Prepare your ice cream maker and freeze the ice cream per the instructions.
Gently fold the bacon and pralines into the soft ice cream and freeze in an airtight container until it hardens (3-4 hours).
Serve and enjoy! I served mine with a drizzle of a homemade maple caramel and some additional chopped bacon and pralines.
Makes about 4 quarts