Unknown
Permanent Link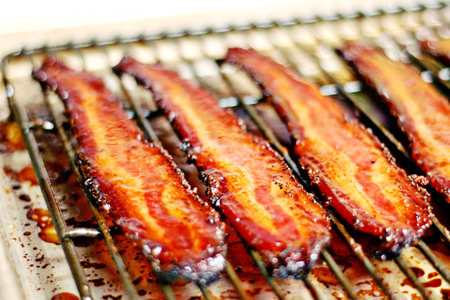 How can you possibly go wrong with peppered bacon coated with dark brown
sugar, baked, then glazed with pure maple syrup mixed with a little cayenne? Yeah, it's naughty good.
The great folks at
Burger's Smokehouse
sent me some of their "crazy thick" (1/4") dry-cured bacon to try, so I thought I'd give it a proper treatment. Right out of the gate, let me say that this bacon is outstanding! Order some up, and thank me later. I spent about half of my childhood just down the road from them in Columbia, Missouri, so that makes it even more special for me. We have to support our smaller family-owned producers.
OK, if you've never made or experienced pig candy, strap yourself in for a serious porcine indulgence.
Ingredients
1 lb Thick-cut peppered bacon, preferably
Burger's
1/2 cup Dark brown sugar (more as needed)
1/4 cup Pure maple syrup
1/4 tsp Cayenne
Method
Preheat your oven to 375*.
Mix the syrup and cayenne well in a small bowl and set aside.
Coat both sides of each bacon slice generously with brown sugar.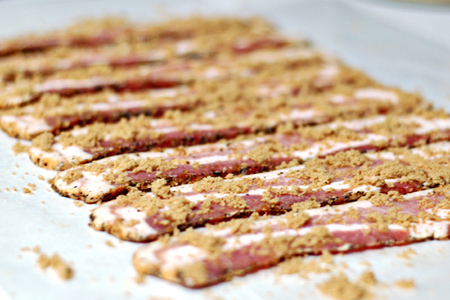 Arrange the bacon on a wire rack inside a sheet pan as shown.
Note to self:
Lining the sheet pan with parchment paper will greatly ease the clean-up.
Bake in the center position until the sugar is starting to caramelize and the bacon just starts to crisp around the edges. This should take about 15 minutes, depending on the thickness of your bacon.
Brush each slice with the syrup and bake another five minutes.
Flip the bacon over and brush the other side with the syrup.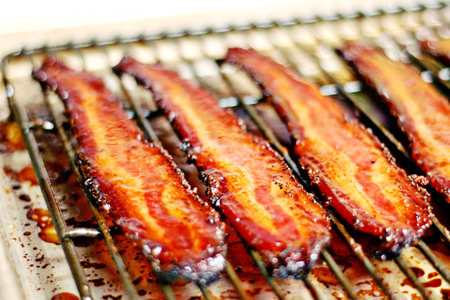 Bake until the bacon reaches your desired doneness.
Remove from the oven and let sit five minutes.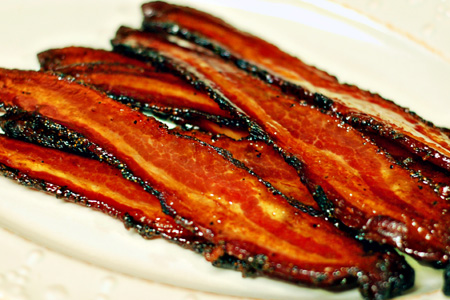 Enjoy, but try not to eat it all at once.
Note:
If you like this recipe, try
the praline version
.