Unknown
Permanent Link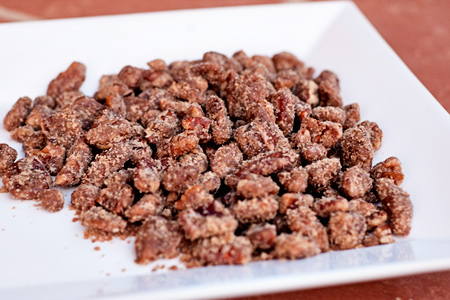 Here's a funky and piglicious twist on pralines. You'll see these appear in a supporting role in my upcoming Pig Candy Praline Ice Cream recipe, so I thought I'd share this recipe first as a bit of a teaser. I'm mean like that.
This is a very simple recipe. I just winged it and didn't use a candy thermometer. It's pretty hard to mess this up.

Ingredients
1 cup Pecan halves
1 Tbsp Bacon drippings
1/3 cup Brown sugar, golden/light
2 Tbsp Maple syrup (the real stuff, of course)
1/4 tsp Ground cayenne (optional, but recommended)
Pinch Chinese five spice

Method
Heat the bacon drippings in a large non-stick skillet over medium heat.

Add the remaining ingredients and cook until the sugar melts and comes just to a gentle boil, stirring constantly. Cook three minutes more, continuing to stir constantly.

Remove the pan from the heat and let the nuts cool in the pan, stirring occasionally.

Note: If the pecans are still sticky after they've cooled a bit, just toss them with a little more brown sugar.

Makes 1 cup.