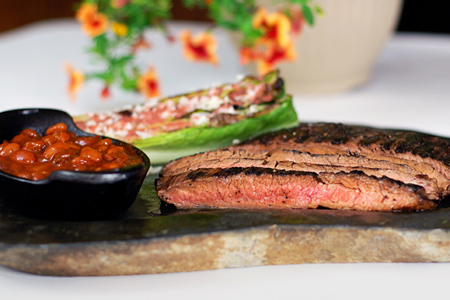 Lately I've been
posting
about my summer kick-off cookout, brought to you by
Bush's Grillin' Beans
, and the
accompanying giveaway
. Well, my "Pastor's Family Cookout" took place last weekend, and we had a great time.
I truly believe that pastors have one the toughest "jobs" that there is. They deal with things on a daily basis that many of us never even contemplate. What we might call a "job" is really a call to shepherd their flock (congregation) humbly and sacrificially. So, I wanted to use this opportunity to show my appreciation for all that my pastors and their families do, most of which largely goes unrecognized.
Another thing about this cookout that made it even more special is that it was the day before our church "graduation" where we went from a missionary church plant to an independent self-supporting church.
We had such a wonderful time gathering in a local park to enjoy good food and fellowship. I got to cook a bunch, teach a little bit about barbecue and grilling, then stand back and enjoy what I love -- watching people eat and enjoy themselves.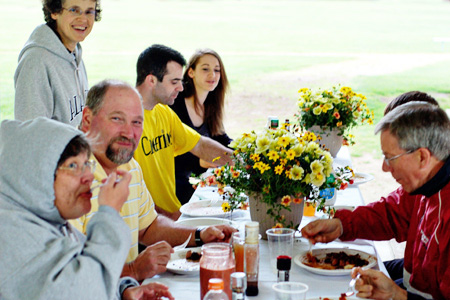 Our Associate Pastor's sons (below, top center) especially enjoyed the steak. Our eldest daughter said, "Tyler and Trevor ate like eight servings of meat!"
Here's what was on the menu, and some recipes:
Steak Sampler - Ribeye, Flank, and Prime Top Sirloin
Grilled Salad with Strawberry-Balsamic Vinaigrette
Grilled Strawberry Shortcake
Texas Toast
Note:
I've scaled the recipes down to approximately four-person servings.
Cola-Marinated Flank Steak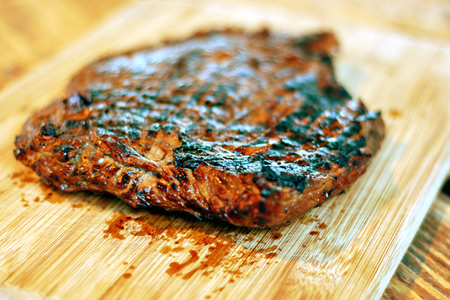 Ingredients
1 Flank steak (preferably USDA Choice or better)
1 can Cola (leaded, no diet!)
1/4 cup Soy sauce
1/8 cup Worcestershire sauce
2 tsp Black pepper, ground fresh
1 tsp Granulated onion
1/4 tsp Granulated garlic
Process
Dump all of the ingredients, except the steak, in a one gallon zip-top bag, seal and shake well.
Add the steak to the bag, remove the excess air, and seal.
Lay the bag in a lipped pan (to catch any leakage), refrigerate, and marinate 4-6 hours.
Remove the steak from the marinate, pat dry with paper towels, and let sit at room temperature for 30 minutes.
While the steak is resting, prepare your grill for
two-zone cooking (direct and indirect)
at high heat (about 500º).
Grill the steak just to medium-rare (no further than medium -- about 4-6 minutes per side, depending on the thickness), then remove it to a platter, tent it loosely with foil and let it rest for five to ten minutes.
Slice across the grain to about 1/4", and serve with
Bush's Texas Ranchero Grillin' Beans
.
Grilled Salad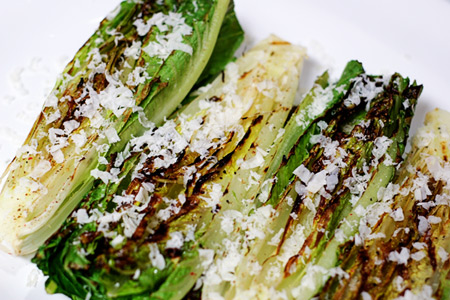 Ingredients
2 heads Romaine lettuce, washed and dried
1 cup Strawberry-balsamic vinaigrette (recipe follows)
Canola oil spray
Kosher salt
Pepper
Shaved Parmesan cheese (about 3/4 cup)
Method
Split each head of lettuce lengthwise.
Spray the cut side of each half lightly with the canola oil, then season with salt and pepper to taste.
Grill each half, cut-side-down, over a hot direct fire for about 90 seconds.
Remove to a sheet pan, sprinkle evenly with the cheese and let cool.
Drizzle each half with an equal amount of dressing, serve and enjoy!
Strawberry-Balsamic Vinaigrette
Ingredients
1/2 cup Extra virgin olive oil
1/2 cup Canola or vegetable oil
1/2 cup Strawberries, quartered
1/4 cup Balsamic vinegar
1/4 cup Honey
1 Tbsp Dijon mustard
2 tsp Dried oregano
1 tsp Dried thyme
2 tsp Garlic salt
1 tsp Black pepper, ground fresh
Method
Combine all of the ingredients in a blender.
Pulse until all of the strawberries are pureed.
Refrigerate until serving.
Grilled Strawberry Shortcake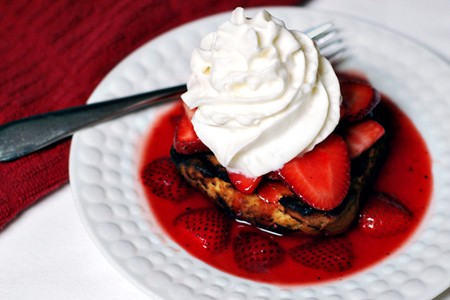 Ingredients
1 lb Pound cake (I used butter pound cake)
1 lb Fresh strawberries, sliced
3/4 cup Sugar
1 tsp Kosher salt (to aid in maceration)
1/8 tsp Ground ginger
1/8 tsp Ground allspice
Canola oil spray
Whipped cream
Process
Combine all of the ingredients, except the cake, in a large mixing bowl and mix well.
Cover and refrigerate for at least an hour, stirring occasionally.
If your grill isn't already hot, prepare it for direct cooking at medium heat (about 350º).
Cut the pound cake into 1 1/2" slices, and spray each side lightly with the oil.
Grill the cake slices until they are toasty and have grill marks on each side. You'll know that they're ready to flip when you start to smell a toasty marshmallow aroma and see slight wisps of smoke.
Serve each slice topped with a good amount of the berry mixture and whipped cream.
The Big Giveaway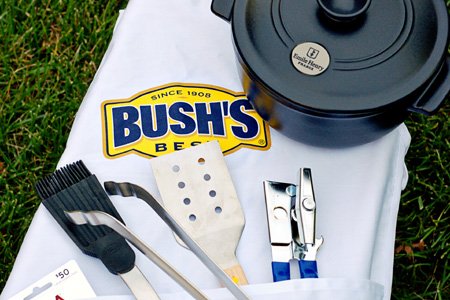 Now it's time to launch the giveaway that
I detailed last week
. The rules are pretty simple.
To enter, just leave a comment here telling me about your grilling masterpiece and what Bush's Grillin' Beans flavor would best accompany it. Burgers and dogs are a given, so be creative.
This giveaway is open to all entrants residing in the United States only.
Since I need a way to contact the winner, your comment must either link to or contain your e-mail address.
No entries will be accepted after 12 PM Mountain Time Tuesday, May 31, 2011.
The winner will be chosen at random from all eligible entries (via random.org).
The winner will be announced on this blog on May 31, and will be contacted via e-mail.
In the event that the winner cannot be contacted another winner will be chosen at random from all remaining eligible entries (via random.org).
The folks at Bush Brothers are covering the shipping.
Important:
Again, I must have a way to find your e-mail address. If it's not in the comment text I will look at your profile and/or your blog(s). If you don't see your comment posted within a few hours, it's because I couldn't find your e-mail address.
Thanks!
I would like to thank
Bush Brothers
for sponsoring this cookout and the giveaway. I've long been a huge fan of Bush's beans, and they have been great to work with.