The "formal" barbecue and grilling season is nearly upon us, and it recently occurred to me that I've never covered how gas grillers can add smoke to their cooking. Given that a lot of my recipes involve smoking, it's long past time for me to help y'all get your smoke on.
Just because you only own a gas grill doesn't mean that smoking is beyond you. While it's true that a gas grill will never give you that true barbecue flavor that you get from charcoal and/or wood, with a little effort you can get fairly close. Here I'll share several ways to take your gas grill to the next level.
First we need to address wood. In a future post I'll cover what woods go best with what foods, but for now you just need to know that chips are your friend. Various kinds of wood chips are readily available throughout the spring and summer months at your local mega-mart or home improvement center. I recommend that you keep a bag of hickory and one fruit wood (apple or cherry) on hand pretty much year-round. Mesquite chips are also great to have on-hand for steaks and other beef cuts.
When using wood chips it's very important that you soak them for a couple of hours before you plan to start cooking. Often it's hard to remember to soak the chips in advance, but they really do need to be soaked for
at least
an hour. Otherwise you get a very quick burst of smoke that doesn't do much. You want the chips to smolder and, you guessed it, smoke rather than catch fire and burn up quickly.
Next, we need a container that will do three things:
Restrict the air flow (so the chips don't catch fire and burn up)
Contain the ash
Allow you to move the chips so that they don't burn too quickly
There are many ways to handle this. You can go store-bought, or you can go DIY. I prefer the latter.
Here's a smoker box. These are usually made of anything from cast iron (shown here) to cheap metal. If you're going to go this route, spend a little more and go with cast iron or stainless steel.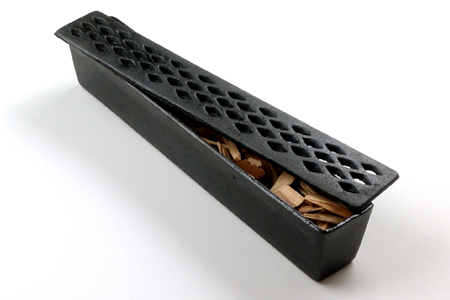 You simply fill it with soaked chips and set it on the edge of one burner. As with any of these methods it will take some experimentation to find the best location on your grill.
Next, we go MacGuyver with a couple homemade smoker boxes made from simple cans. Be careful not to use cans that are lined, like those used for tomatoes. These usually have a white interior.
Here we have a version where you cut the top off of a can, punch holes in the other end, and set it in a larger can. You dump the chips in the smaller can, put the larger can on top, flip it over, then set it on your grate.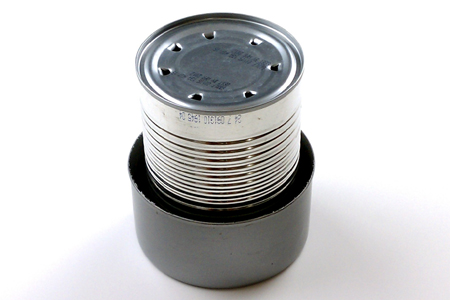 Here's a little different twist on the previous can configuration. If you have one of those can openers that cuts the bead around the can, just rinse it out, put the top back on, and punch a few holes in the lid with a bottle opener. Fill the can with soaked chips, put the lid on, and away you go.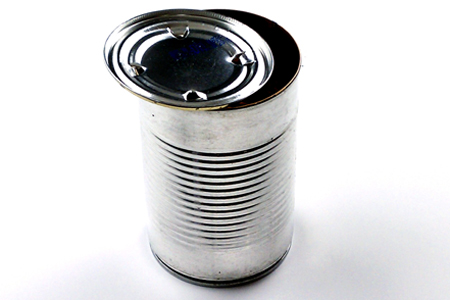 Last, but not least, we have the infamous foil pouch. The instructions to make one of these is usually printed on the wood chip bag, but here goes. It's a really easy one-use option.
Tear off a two pieces of foil about a foot long (one piece if it's heavy-duty). Put one to two cups of soaked chips on one side as shown.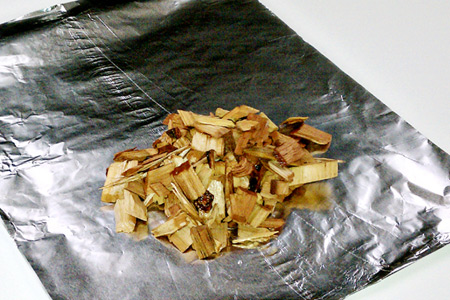 Fold one half over the other and double-fold each open end to create a sealed packet.
Punch eight to ten holes in the top of the packet using a knife, skewer, or whatever else is lying around that is sharp.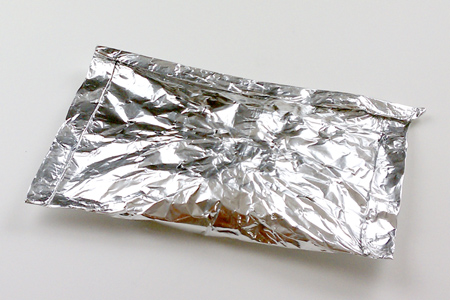 Lay the packet on top of the flavor bars/burner shield/rocks under the cooking grate (and above the burner). Place it in a corner or far off to one side and not directly under where the food will be.
The great thing about the packet method is that you can easily make various sizes depending on how much smoke you need, and for how long.
Tip:
If you are cooking a large cut and need to smoke for a longer time, make an extra packet or two in advance so that you can just put a new one in as needed.
Well, there you have it! Just because you have a gas grill doesn't mean that you have to forego the smokey goodness that is barbecue. With a little added effort and experimentation you will add a whole new dimension to your gas grilling.
I should mention that these methods are also handy on a charcoal grill when all you have is wood chips, or where you just need a blast or whisper of smoke, as I recently did with some
pork tenderloins
.
Note:
I apologize for the poor picture quality. My wife took the SLR to SoCal, so I was left using my cell camera. Ugh! It's an HTC (Droid) Incredible, in case you're curious.
Labels: how-to