Unknown
Permanent Link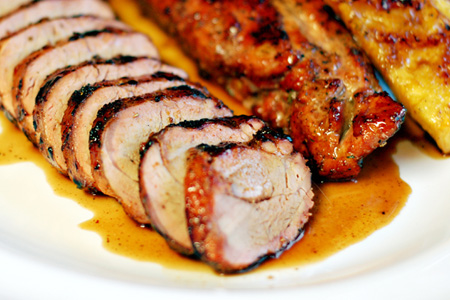 Last weekend I developed this glaze to adorn some beautiful all-natural pork tenderloins that I grilled for dinner. Maple and pork are like peanut butter and chocolate, and the ancho just adds a nice raisin-like chile flavor.
I soaked the tenderloins in
Kosmo's Pork Soak
for four hours. I then patted them dry with paper towels and gave them a liberal coat of
McCormick Grill Mates® Montreal Chicken Seasoning
.
I grilled them using what I call the "redneck soo veed" method (reverse-sear). I cooked them indirect to 140º internal (with a whisper of cherry smoke) then seared them direct for just a few minutes per side.
I overcooked the pork by about five degrees, but it was still tender and juicy. Pork tenderloins are so lean that there isn't much margin for error. The added moisture retention from the Kosmo's soak undoubtedly saved me.
The pork was served with oven-roasted tri-color fingerling potatoes and some grilled pineapple wedges that I brushed with the pork glaze. It was a good dinner, indeed.
Ingredients
1 cup Pure maple syrup, grade A amber
1/2 cup orange juice
2 Tbsp Butter
2 Tbsp Bourbon (optional)
1 tsp Ground ancho chile
1 tsp Kosher salt
1/4 tsp Sweet paprika
1/4 tsp Ground ginger
1/4 tsp Ground cayenne
1/8 tsp Smoked paprika
1/8 tsp Cinnamon
Method
Heat the syrup and butter in medium sauce pan over medium heat.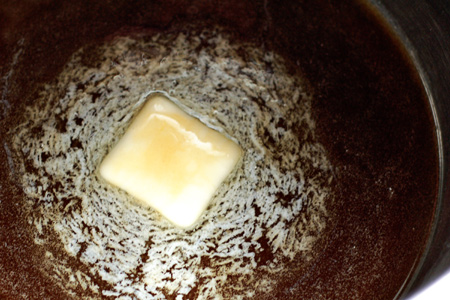 When the butter is melted add the remaining ingredients.
Bring just to a boil then reduce the heat to medium-low and simmer 10 minutes.
Remove from the heat and let cool.
Brush on the carnage of your choice just a minute or two before you take it off the grill.
Enjoy!