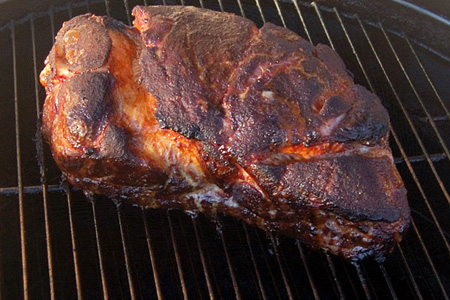 Here is the process I typically use to cook a "hot & fast" barbequed pork butt, which then becomes the much more familiar pulled pork. The Memphis part comes from the dry rub that I use.
Way back in the early days of this blog I
shared
my hot and fast beef brisket process, and this is really the same thing, but with a cut that is obviously from a whole 'nother beast.
Traditional barbecue is typically cooked "low & slow" (a long time at a low temperature), but, as the name implies, it takes a very long time. With a hot and fast method (a shorter time at a higher temperature) you take the same basic steps, but you get to eat much sooner — typically in as little as half the time. The goal is to achieve the same quality end product in a much shorter time. To help quantify things, a 7-8 pound butt can generally take 10-12 hours to cook low & slow. Here I'll show you how I get the same result in five hours.
Among BBQ purists the usual response to a hotter and faster cook is, "Yeah, but can you tell the difference?" To that I simply reply, "No!" I've cooked both styles at home and in competition and the only difference I see is in the amount of sleep I get. It really is the same product in a much shorter time. If you're a busy family guy like me (or you like to get some sleep at competitions, like me), that makes all the difference in the world.
Let's get on the bidness end of some hot & fast hog!
Ingredients
7-8 lb Pork Boston butt
3/4 cup Memphis-style dry rub (recipe follows — makes more than needed)
6 oz Ginger ale
Canola oil spray
Memphis Dry Rub
1 cup Sea salt, medium fine (no table salt, please)
1/2 cup Unrefined evaporated cane sugar (no table sugar, please)
1/2 cup Brown sugar, golden/light
2 Tbs Sweet Hungarian paprika
2 Tbs Chili powder, medium heat
2 Tbs Granulated onion (not onion "powder")
2 Tbs Dry mustard
1 Tbs Granulated garlic (not garlic "powder")
2 tsp Dry thyme
2 tsp Dry oregano
2 tsp Black pepper, ground fresh
2 tsp Celery salt
2 tsp Ground ginger
1 tsp Ground coriander
1 tsp Ground cayenne (optional)
Method
Combine all of the rub ingredients in a large mixing bowl and mix well with a
whisk or stand mixer.
Trim the pork of any loose fat and season all sides with a fairly heavy coat of the rub (about 2/3 cup). Make sure that you season all of the exterior parts of the pork, including any portions between the muscles that you can get to.
Put the pork in a lipped pan with the fat cap down, cover with plastic wrap, and refrigerate 12-36 hours (the longer the better).
About six hours before you want to serve, Fire up your grill/cooker for indirect cooking at 325º grate temperature using the smoke wood of your choice. I use Kingsford® Original (blue bag) with four small chunks of hickory and two small chunks of cherry.
Note:
You'll need enough coals for a five-hour cook, or be prepared to add coals as needed. If you're using a gas grill,
make a few smoker pouches
.
While your coals are starting, uncover the butt and hit all sides with another light coat of rub (about two tablespoons).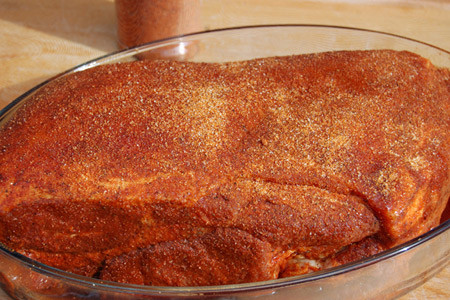 When your coals are ready, put the butt on the cooker with the fat cap down.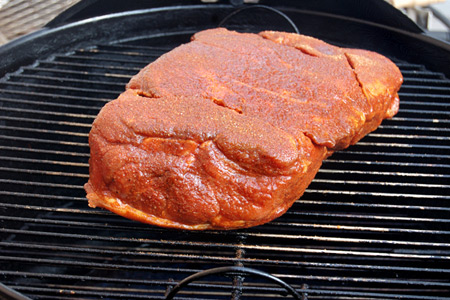 Cover and let it cook for 3 hours at an average grate temperature of 325-350*. Here's how mine looked at two hours.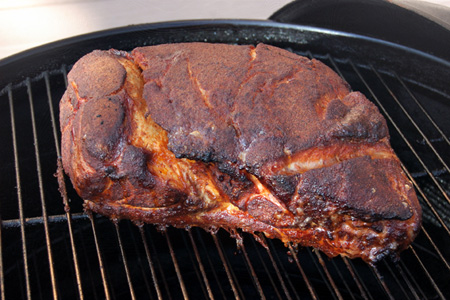 ...and at three hours.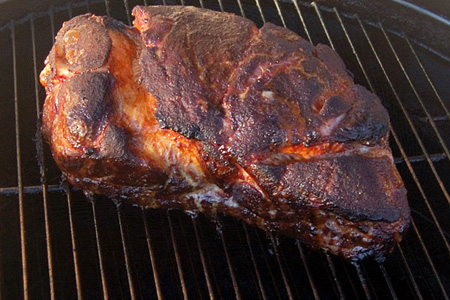 At the three hour mark (mine was 165º internal), wrap it fat-side-up in a triple layer of heavy-duty foil, adding the ginger ale. You want to wrap it as tightly as you can without the risk of piercing the foil.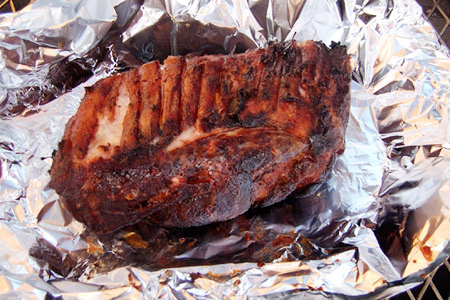 Put it back on the cooker and cook indirect for another two hours. The finished temp should be about 203º in the thickest part of the butt. If it's below 195º, continue cooking, checking the internal temperature about every 15 minutes.
Note:
Once it's wrapped you can finish the cook in a 325º oven. Yes, it's sort of like cheating, but nobody will know. If you're pressed for time, just increase the heat to 350º.
Remove the butt from the cooker, open the foil and let it rest for at least 15 minutes.
Pull the pork with a large fork in each hand (or by hand wearing gloves), discarding any noticeable pieces of fat. I season the pulled meat with a little bit of the rub and I add some of the wrapping liquid (skimmed of fat) to keep it moist.
Serve the pulled pork on a bun topped with BBQ sauce and some of your favorite slaw.
Enjoy, then enjoy some more!