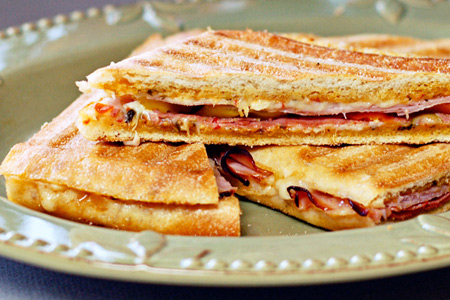 This sandwich is my funky twist on a
muffaletta
. It's one of those recipes that I made up on-the-fly while doing the, "What in the world am I gonna make for dinner?" mental gymnastics on my way home from work last night. I wanted something quick and easy, yet new and interesting.
As I was parking at the store I remembered
this great sandwich
recipe from chef Anne Burrell. I didn't remember the entire recipe, but I did recall enough to be inspired by it. This happens to me alot. Here's how the rest of this little culinary adventure went down.
I grabbed a loaf of take & bake ciabatta and that's when I came up with the "panini-style" idea. The bread needs to be baked anyhow, so why not try something new? A panini would be great, and while I don't have a panini press, I do have a baking stone and a large cast iron griddle with a grill on the other side. Bingo! It was a true Alton Brown-esque moment.
Next I went looking for something to approximate the pepper relish that Anne used. As I scoured the shelves I saw a small jar of roasted red pepper tapanade. It looked promising (albeit expensive), so I threw it in the basket.
Cheese was on the list of needs, and while in that section I realized that I had plenty of various cheeses at home. Just as I moved along I discovered something even more interesting to replace the relish &mdash roasted red pepper pesto. "Ah yes, that's even better.", I thought.
I hit the pickle aisle because I needed something to add a vinegar twang. I grabbed a jar of mild pickled banana pepper rings. My girls dig just about anything pickled, and I thought these would add not only the needed twang, but also a great texture and another dimension of flavor.
Now I needed the meat. I am a huge fan of
Boar's Head
deli products. Their stuff is a little pricey, but the quality is definitely worth it. While the deli dude was slicing my tavern ham (like Black Forest, but a little sweeter with a lighter smoke), I saw the olives that I was lacking. What is a muffaletta without olives? The olive loaf was calling me. Yes, olive loaf. This is at least the third time that I've ever in my life bought olive loaf.
With all the ingredients in hand, it's time to make a stellar sandwich!
Ingredients
1 loaf (12 oz) Take &amp bake ciabatta bread
1/4 lb Deli ham, sliced very thin
1/4 lb Deli olive loaf, sliced very thin (or substitute mortadella)
6-8 slices Havarti, Swiss or provolone cheese
1/3 cup Roasted red pepper pesto
Pickled pepper rings to taste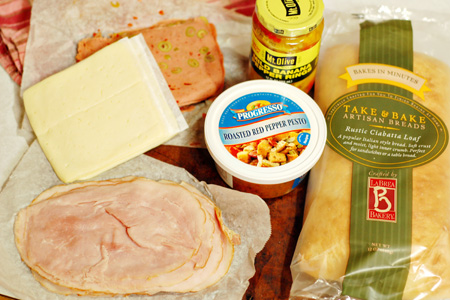 Method
Put your baking stone on the center rack of your oven, and your cast iron griddle on a lower rack.
Note:
If you don't have a cast iron griddle, a large cast iron skillet will work nicely.
Preheat the oven to 400º.
Split the loaf of bread in half horizontally and press down on the internal bread of each half to compress it.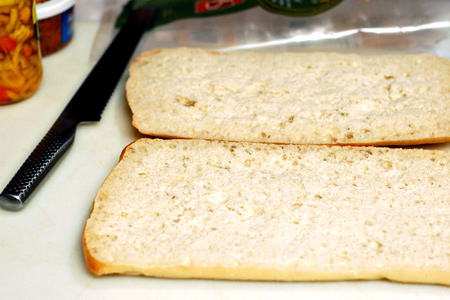 Spread half of the pesto evenly on each half of the bread.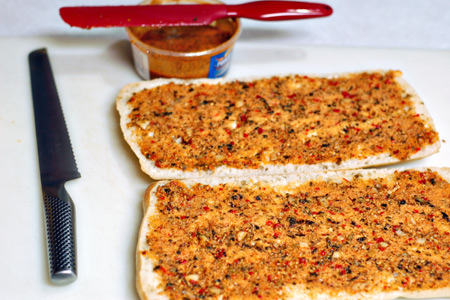 Cover each half of the bread completely and evenly with the cheese.
Arrange the ham evenly on one half of the bread, and the olive loaf on the other.
Distribute the pepper rings evenly on one half.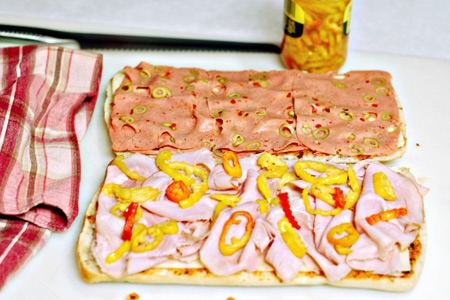 Carefully close the sandwich.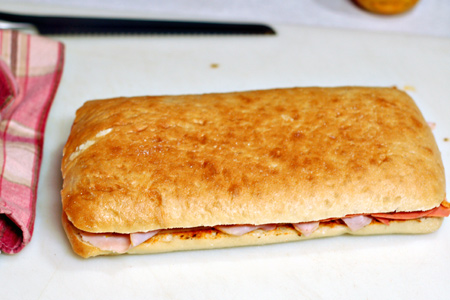 Put the sandwich in the center of the baking stone.
Very carefully center the griddle on top of the sandwich.
Note:
It's important that it be centered so that it doesn't slide off in one direction as the sandwich cooks. This happened to me.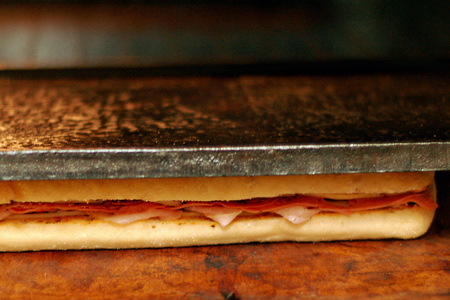 Bake the sandwich for 15 minutes, or until the edges of the bread are golden brown and starting to crisp.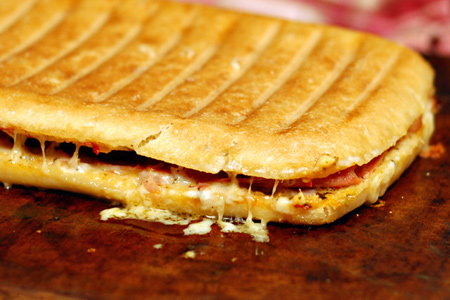 Remove the sandwich to a cutting board.
Slice and enjoy!