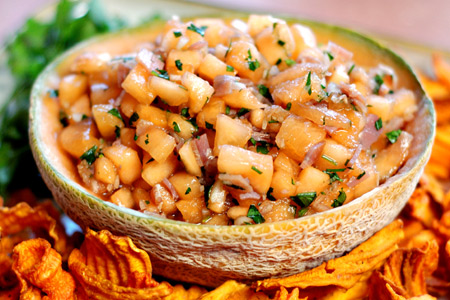 Here's a funky sweet and savory salsa that makes use of the well-known flavor marriage of cantaloupe and prosciutto. I served it with some sweet potato and carrot chips, but I think it would be outstanding atop a nice piece of grilled mild fish. It might also be a good accessory to a
grilled salad
.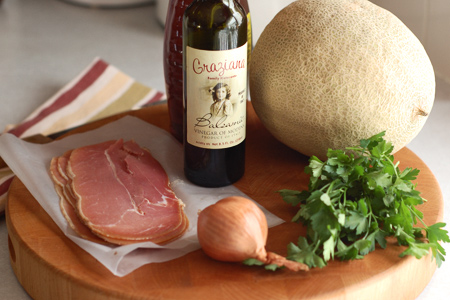 Ingredients
1 medium Cantaloupe
1 large Shallot
4 slices Prosciutto (a little thicker than paper-thin)
1 handful Italian parsley
2 Tbsp Balsamic vinegar
2 Tbsp Honey
1 tsp Kosher salt
1 tsp Ground white pepper
Method
Cut the cantaloupe in half and seed it.
Note:
If you don't want to use the rind as bowl, skip the next three steps.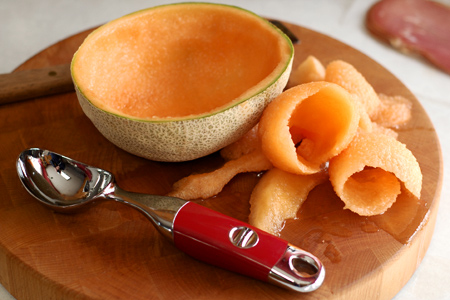 Use an ice cream scoop to remove all but about 1/4" of the flesh from one half of the melon, as shown. Set the flesh aside.
If the hollow rind won't sit upright on its own, cut a small sliver off of the bottom center to make a flat spot.
Put the rind bowl in a large zip-top bag and freeze it.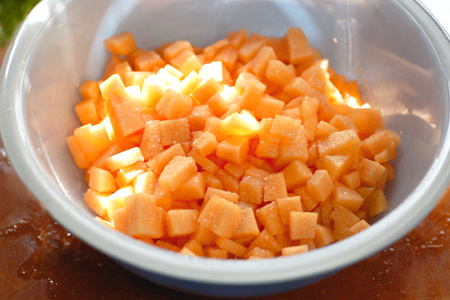 Cut all of the melon to a medium dice and put it in a large mixing bowl.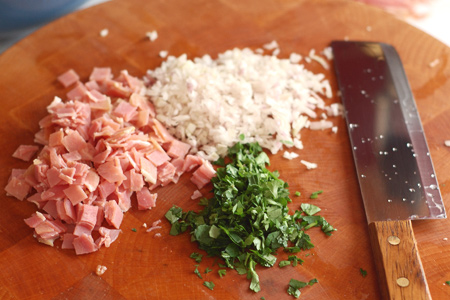 Chop the prosciutto to approximately 1/4".
Mince the shallot and chop the parsley (medium - you need about 1/3 cup).
Note:
This kind of prep work is where the uber-cheap and scary-sharp
Kiwi knives
really shine. They are prep machines!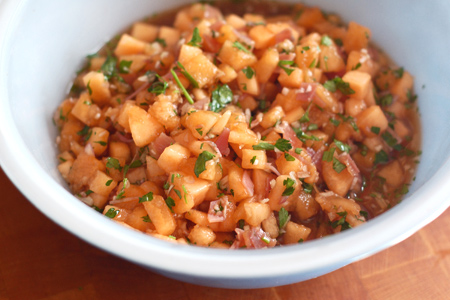 Add the prosciutto, shallot, parsley, salt and pepper to the mixing bowl.
Whisk the vinegar and honey together in a small bowl, then add it to the melon.
Mix the salsa well, cover and refrigerate at least two hours, stirring occasionally.
Serve and enjoy!