Unknown
Permanent Link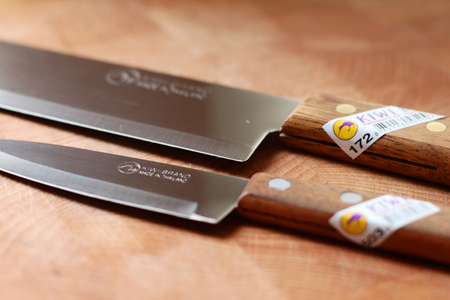 I'm a self-admitted knife freak. I love the smell of sharp steel in the morning. My usual blades are Japanese
Global knives
. They are brutally sharp, feel great in your hand, are solid stainless steel, and hold an edge very well.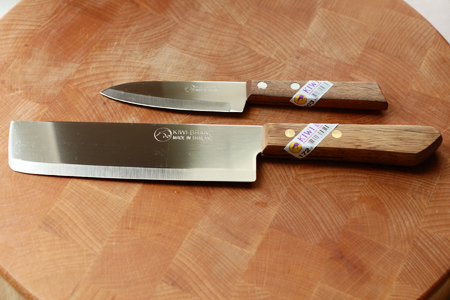 Recently I've read quite a few
reviews
that sing the praises of Kiwi knives. Last week I read
this review
, and it prompted me to see what all the hype is about. I ordered the 11" blunt "meat knife" and the paring knife from
The Wok Shop
. Including shipping, they cost me $10.90. Yes, you read that correctly. They were $3.95 and $1.95, respectively, plus shipping. I ordered them Tuesday afternoon and they were at my door Friday, so I give kudos to The Wok Shop for their prompt service.
Having read about the incredible sharpness of these knives, I was more than a little curious when I tore open the box. Now, for just shy of $11 to my door, I was not expecting all that much. Man, these things take "scary sharp" to a whole new level. They are like razor blades with handles -- seriously. You hear about "knives you can shave with", well, these things should have "Gillette" stamped on them. I'm not intimidated by knives, but these made me pay very close attention to what I was doing.
As for the quality, I will say that, along with the sharpness, I was surprised at how thin and flexible the blades are. Most knives have a taper from the tip to the heel. Well, these are clearly stamped out of a flat sheet of stainless steel, so there is no taper, which brings me back to my comment about them being like razor blades with a handle. They are very light and feel comfortable in my hand.
I put the knives through some trials this weekend and I am very pleased so far. Of course, one weekend of cooking is clearly not nearly enough of a workout to gauge the overall quality and usefulness of anything in the kitchen. I will continue to use them and report back in a few months with my final verdict.