Unknown
Permanent Link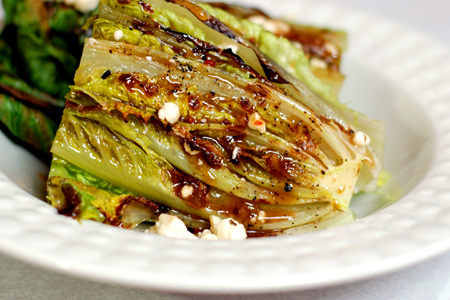 Grilled salad?! Yes, it may sound odd to some of you, but the ladies here give it rave reviews. This is not a unique idea, lest you think I've completely made this up. A quick search of the internet will reveal many versions.
Let's look at this pragmatically. If you're taking the time to fire up the grill to cook up some carnage, why not get a very simple but impressive side dish out of the deal? It's dirt cheap, incredibly simple, but has enough wow factor to impress your family or guests.
This is clearly on the short list of the simplest recipes that I've posted to-date. My version adds a little bit of a Mediterranean flair, but you finish it how you like. I've done this with bleu cheese dressing and it was a hit. It would even work well with the Idaho state dressing -- ranch.
Ingredients
2 heads Romaine lettuce, washed and dried
1/2 cup Feta cheese, crumbled (I used garlic and herb)
1/2 cup Balsamic vinaigrette (I added some honey to mine)
Oil (I used
Pompeian OlivExtra Plus
)
Kosher salt
Pepper
Method
Split each head of lettuce lengthwise.
Drizzle the cut side of each half evenly with a tablespoon or two of oil.
Season the cut side of each half with salt and pepper.
Grill each half, cut-side-down, over a hot direct fire for about 90 seconds.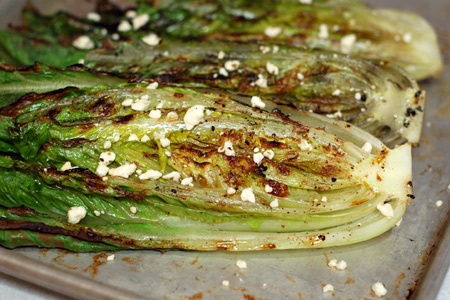 Remove to a sheet pan, sprinkle evenly with the cheese and let cool.
Drizzle each half with an equal amount of dressing.
Cut each half in half width-wise, serve and enjoy!