Unknown
Permanent Link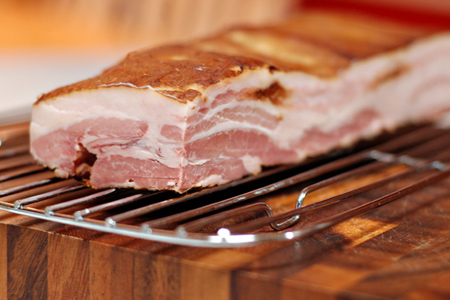 I'm almost embarrassed to say that I've just recently discovered the wonders of homemade bacon, despite having a food blog for four years. No, scratch that, I am embarrassed! It really is sad, and I repent here and now for all the world to see.
For some reason making homemade bacon is shrouded in some sort of strange and mysterious veil of complexity. Once you see how easy it is it's like you've been smacked in the head with a clue-by-four. This compounded my embarrassment.
My friend Meathead over at AmazingRibs.com (a great barbecue site, by the way)
wrote the following
, and he's absolutely correct.
Makin' bacon is surprisingly easy and the results are quantum leaps better than the stuff from large commercial producers. Once you have the basic recipe down, you can vary the ingredients to make a flavor profile to suit your taste. It is a simple two-step process: (1) Curing, and (2) smoking.
Here, let me show you how easy this is. My recipe is simpler than Meathead's, but the results are incredible.
Ingredients
2 lbs Pork belly
2 Tbsp
Morton® Tender Quick®
Method
About the pork belly:
Get the best that you can find, preferably locally-sourced and all-natural.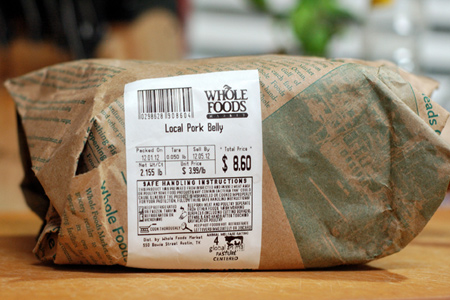 Unwrap the belly, rinse it, then pat it dry with paper towels.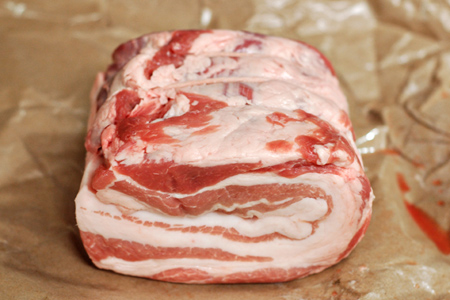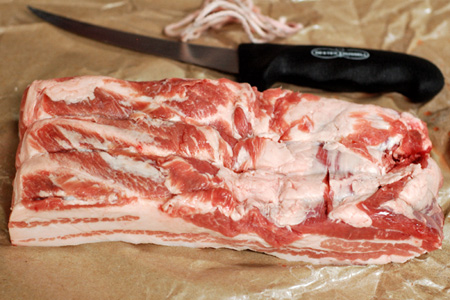 Sprinkle the Tender Quick® evenly over the entire outside of the belly (don't forget the edges), put it in a gallon-sized zip-top bag and seal, removing the excess air. Refrigerate seven to ten days, turning and massaging the bag every two days or so.
Start your smoker and prepare for indirect cooking at low heat (about 225-250º). Use whatever smoke wood you like. I used a blend of 2/3 hickory and 1/3 cherry which worked beautifully.
Remove the pork from the zip-top bag, rinse well under cold running water, and pat dry with paper towels.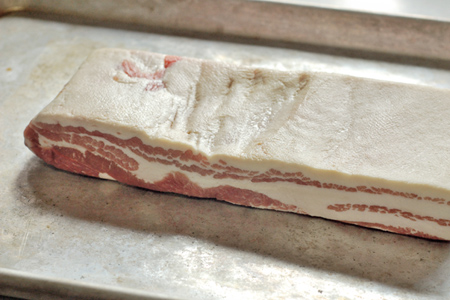 Smoke the belly indirect until it reaches an internal temperature of 150º. Remove it to a plate, rinse under cold running water (to help cool it quickly). Pat dry with paper towels, wrap tightly in plastic wrap and refrigerate. It'll keep in the refrigerator up to two weeks.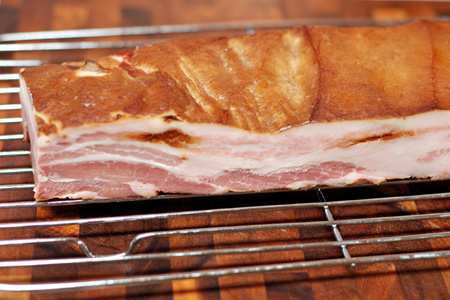 Slice, cook as you normally would, serve and enjoy!
Now that you have some killer bacon, go make yourself some
pig candy
.