Unknown
Permanent Link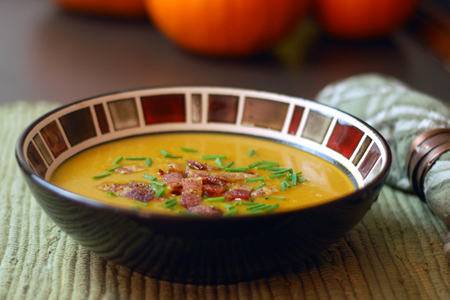 This soup was inspired by two dishes that I enjoyed during my recent trip to St. Louis. The first was a hearty butternut squash
at The Farmhaus
, and the second was a cheddar-jalapeno soup made with Budweiser
at the Anheuser-Busch brewery
.
I took what I found to be the best aspects of each soup and combined them. Fall is a great time for a butternut squash soup, but I thought that I could bring some beer to the party. Rather than use Bud, I chose the unfiltered goodness of
Shock Top
Belgian White. I felt that the soup needed a hearty beer to help cut through the natural sweetness of the butternut squash. It really worked, and I think you'll enjoy this twist on a fall classic.
Ingredients
8 cups Peeled and chopped butternut squash, cut to 1"
2 Tbsp Light olive oil
3 tsp Kosher salt, divided
1 1/2 tsp Ground black pepper
1/2 tsp Ground ancho chile
1/2 tsp Ground nutmeg
24 oz Shock Top Belgian White, or your favorite unfiltered ale
1/4 tsp Ground ginger
1/4 tsp Ground cumin
6 cups Chicken stock
1 tsp Ground white pepper
2 Tbsp Butter, unsalted
Method
Preheat your oven to 350º.
Combine the squash, oil, 2 teaspoons of the salt, pepper, ancho and nutmeg in a large mixing bowl. Toss/stir to mix well, then spread in a single layer on a sheet pan. Roast in the oven until the squash is very tender and lightly browned and slightly crispy around the edges, about 1 hour.
Combine the beer, remaining 1 teaspoon salt, ginger, and cumin in a stock pot, bring to a moderate boil over medium-high heat and reduce by 1/2.
Add the stock, squash and white pepper to the beer and stock liquid, simmer 30 minutes.
Remove the soup from the heat and blend with an immersion/stick blender until it's very smooth. Whisk in the butter.
Serve and enjoy! I served mine with a little peppered bacon and chopped chives.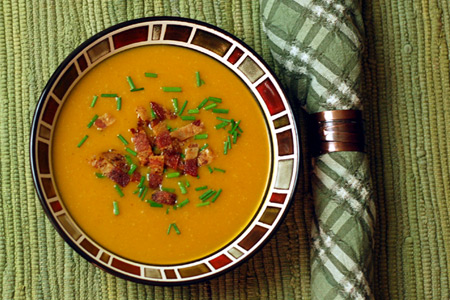 Makes 8 servings