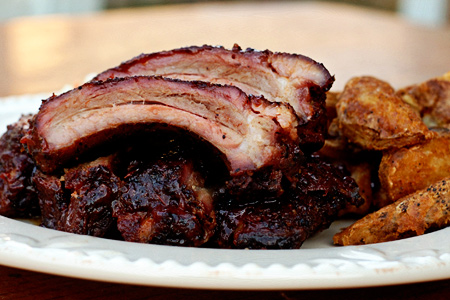 I've had my
Pit Barrel Cooker
(PBC) for just under six months and it has become my go-to cooker for most of my outdoor cooking -- especially tri-tip and chicken. The thing is just so easy to use and the food it produces is simply outstanding. I decided to see how good of a rib cooker it is, and the results honestly blew me away.
Not only is the PBC an outstanding backyard cooker, but I've used them twice in as my sole cooker in competition, including helping the Pit Barrel Cooker Company team beat the venerable Johnny "Godfather of Ribs" Trigg in both ribs and pork at
a recent competition at Craig, Colorado
. That is a huge testimony to the versatility and results that you get from this cooker.
For competition I always use a fairly complex process for my ribs that entails cooking them "bare" (just seasoned with rub) indirectly in smoke for a while, then I wrap them in foil with a liquid for a while. I then unwrap and sauce them, and I cook them directly over the coals for a few minutes to "set" the sauce (so that the sauce caramelizes a little and get sticky). This is a very common method for cooking competition ribs, but it's admittedly a huge hassle.
What follows are my precise results from a recent test cook where I explored how the PBC would deal with a no-nonsense rib cook that is as close to set-it-and-forget-it as I could make it.
Meat:
2 Racks (2.73 lbs each) "enhanced" loin back ribs (same thickness and length)

Seasoned heavily with a 50/50 blend of Pit Barrel All-Purpose and Beef & Game Pit rubs (about 1 Tbsp of each per rack)
Let sit, seasoned, at room temperature for 20 minutes while the coals started

2 Chicken halves (5.08 lbs total) for cooker load ballast
Fuel:
Full basket of Kingsford Original (from a fresh unopened bag). Doused the coals with lighter fluid (about a cup), lit and waited 20 minutes.
No wood chips, chunks or pellets were used.
Weather/Conditions:
86º / No wind / No rain / Cooker in the shade
Process:
7:20 - Lit the coals
7:40 - Hung one rack of ribs and one chicken half on each rod with the bones of each facing the inside barrel wall (about 2 1/2" from the wall)
9:40 - Removed the chicken (it was done)
11:10 - Ribs done and removed (perfect probe test between the bones)
Total cook time: 3 1/2 hours
Notes/Observations:
Average temperature: 290º (measured simultaneously at each rod with my Thermoworks TW8060)
The ribs were never foiled, basted or spritzed.
The ribs had excellent color, were juicy, and had perfect tenderness/texture.
The thin ribs at the end above the basket were crispy, but not burnt.
The ribs were salty, as I would expect with store-bought "enhanced" ribs. I'd recommend using un-enhanced ribs and just a moderate coat of rub.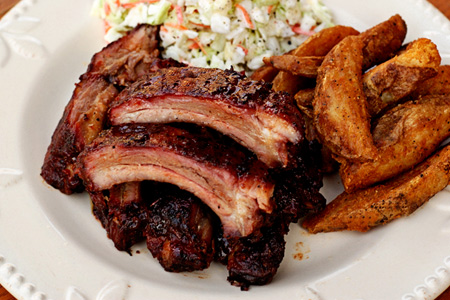 As I said earlier, the results simply blew me away. I hit them with a light coat of sauce after they came off and they were some serious competition-grade ribs. I'd happily serve these to a judge any day! The brain-dead-easy simplicity makes me kick myself for jumping through hoops for all these years.
Labels: pit barrel cooker, review