Unknown
Permanent Link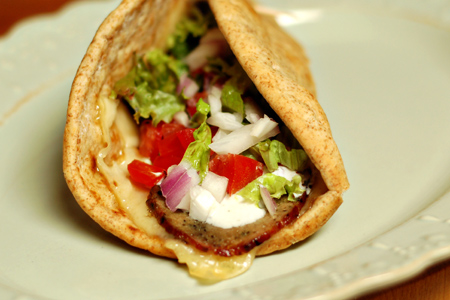 Last weekend I finally tackled something that I have long wanted to try -- making my own gyro meat. Of course I had to grill it, and I am very pleased with the results.
You can't have a great gyro without a great tzatziki sauce, so I tackled that as well.
I tried as best I could to keep this recipe as traditional as possible. The only exception is my non-traditional final assembly.
Ingredients
1 lb Ground sirloin (or standard 80/20 ground beef)
1 lb Ground lamb
2 tsp Granulated onion
2 tsp Dried oregano
1 1/2 tsp Granulated garlic
1 tsp Sea salt (or Kosher)
1 tsp Dried marjoram
1 tsp Dried thyme
1 tsp Black pepper, ground fresh
Pita bread
Swiss cheese, sliced
Chopped lettuce
Chopped tomatoes
Chopped red onion
Tzatziki Sauce
1 1/2 cups Greek yogurt, or drained plain yogurt
1/8 cup Honey
1 medium Cucumber
1 tsp Dried dill
1 tsp Sea salt (or Kosher)
1/2 tsp Ground white pepper
1/4 tsp Granulated garlic
1/4 tsp Ground cumin
Juice of 1/2 lemon
Important:
Make sure that your dried herbs are fresh. They only last about six months, so if they're old get some new.
Method
Peel the cucumber, slice it in half lengthwise, then use a spoon to scrape out the seeds. This will help keep the sauce from being too watery.
Mince the cucumber, put it on some plastic wrap, and sprinkle with a bit of the salt.
Wrap the cucumber up in the plastic wrap and let sit for about 30 minutes. The salt will help draw some moisture out of the cucumber.
In the mean time, add all of the remaining sauce ingredients in a medium mixing bowl and whisk to combine. Cover and refrigerate.
When the cucumber has rested for 30 minutes, open one end of the plastic wrap and squeeze out as much water as you can.
Add the cucumber to the sauce, stir to combine, cover and refrigerate.
Combine the beef, lamb, granulated onion, oregano, granulated garlic, sea salt, marjoram, thyme, and black pepper in a large mixing bowl.
Roll up your sleeves and get those freshly-washed hands in that meat! There's simply no dainty way do do this. Mix it evenly so that all of the ingredients are well incorporated. Squishing between your fingers works well.
Form the meat into a loaf and put it in a disposable foil loaf pan. Cover the pan with plastic wrap and refrigerate for at least two hours.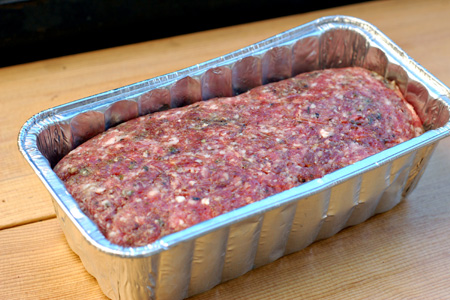 Start your grill and prepare for indirect cooking over a medium fire (325-350º).
Grill the loaf indirect for one hour.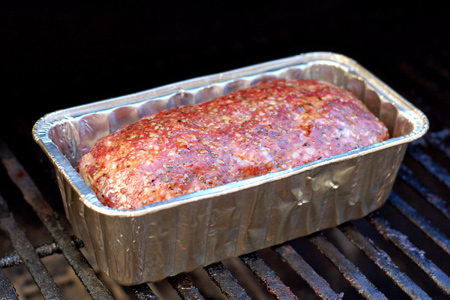 Remove the loaf from the pan and continue grilling indirect for another 45 minutes or until it reaches an internal temperature of 160º.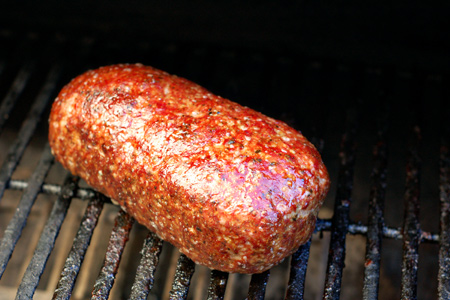 Remove the loaf from the grill, tent with foil and let cool for about half an hour.
Once the loaf has rested, slice it thin.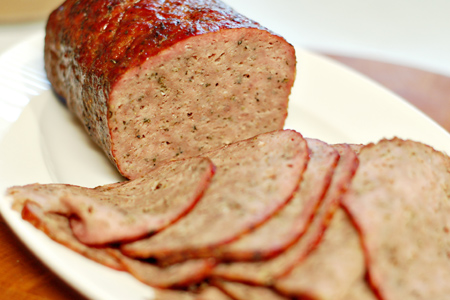 Add more coals to your grill, if needed (still indirect at about 325º), and cover your grill grate with foil.
Put two slices of Swiss cheese and slices of the loaf on each piece of pita bread.
Put the bread on the grill and cook indirect until the cheese is melted.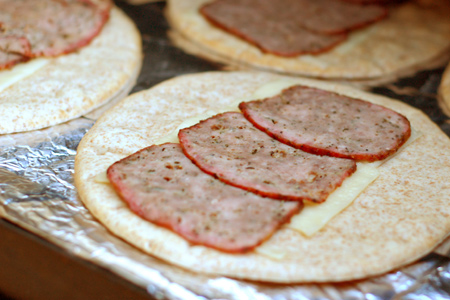 Dress each sandwich as desired with lettuce, tomato, tzatziki sauce, and red onion.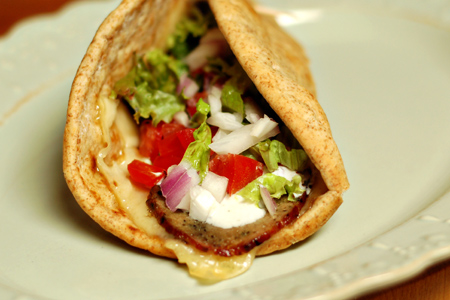 Serve and enjoy!