Unknown
Permanent Link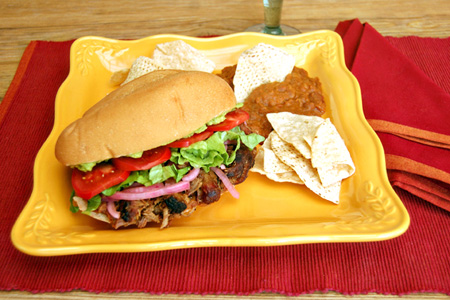 Well, my Cinco de Mayo recipe is better late than never, right? Things have been crazy busy of late, so I apologize for the delay. If you've never had a pork torta, I have two pieces of advice for you. One, remedy that situation ASAP. Two, try this recipe as said remedy.
Torta is simply Spanish for "sandwich". As with most recipes, there are many different traditional versions. My version starts with a split
bolillo roll
. The bottom of the roll is smeared with a thick layer of my
Funky Refried Beans
. I then add a pile of tangy shredded marinated and grill-roasted pork. To that I add some quick-pickled red onion, lettuce, and sliced tomato. I smear the top of the roll with a simple guacamole.
This is essentially a Mexican incarnation of a pulled pork sandwich, and it's incredibly good!
Ingredients
7 lbs Boston pork butt, cut to 1 1/2" across the grain by your butcher (or country-style ribs)
1 batch Marinade (recipe follows)
1 batch
Funky Refried Beans
(or standard refried beans)
1 batch Pickled onions (recipe follows)
1 batch Simple guacamole (recipe follows)
8 Bolillo rolls
1 head Green leaf lettuce, chopped rough
8 ripe Roma tomatoes, sliced to 1/4"
Marinade
4 Navel oranges, juiced (about 1 1/4 cups)
4 Limes, juiced (about 1/3 cup)
1/3 cup Canola oil
6 cloves Garlic, minced
2 Tbsp Kosher salt
1 Tbsp Ground cumin
Pickled Onions
2 medium Red onions, sliced to 1/4"
1 1/2 cup Distilled vinegar
2/3 cup Sugar
2 Tbsp Kosher salt
1 tsp Black pepper, ground fresh
Simple Guacamole
2 large Ripe Haas avocados (Calavo, of course), peeled and chopped rough
1 Lime, juiced
1 tsp Kosher salt
1/4 tsp Black pepper, ground fresh
Method
Combine all of marinade ingredients in a large mixing bowl and whisk well until all of the ingredients are combined. Divide the pork into two gallon-size zip-top bags. Add half of the marinade to each bag, seal (removing the excess air), and refrigerate in a lipped pan (to catch any leakage) for a least 2, but no more than 4 hours.
Make the pickled onions by combining all of the ingredients, except the onions, in a large bowl and whisk until the salt and sugar are dissolved. Add the onions, cover and refrigerate for at least 2 hours.
About 3-4 hours before you want to serve, start your grill and prepare for direct and indirect cooking over a medium fire (325-350º).
Remove the pork from the marinade, reserving as much of the marinade as possible. Grill the pork over direct heat for 30 minutes, flipping at 15 minutes.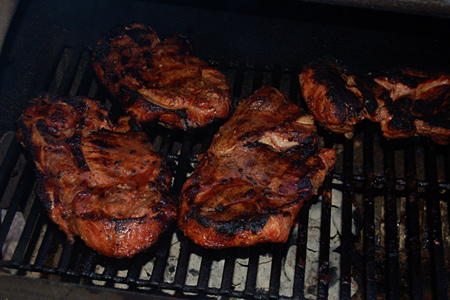 While the pork is cooking, bring the reserved marinade to a boil in a small sauce pan, reduce to a simmer for 5 minutes, then remove from the heat and set aside.
After cooking 30 minutes, move the pork to a large foil pan, pour the cooked marinade evenly over the pork, cover with foil, return to the grill and cook indirect until the pork is fork tender, about 2-3 hours, depending on the thickness.
While the pork cooks, make the
Funky Refried Beans
and keep warm.
Remove the pork from the grill, uncover and set aside for 20 minutes.
Shred the pork by hand or with forks.
Split each roll and smear the bottom of each with about 2 tablespoons of beans, add about 1/3 cup of shredded pork, add some pickled onion, tomato slices, lettuce, then smear the top of the roll with about 2 tablespoons of the guacamole.
Serve and enjoy!