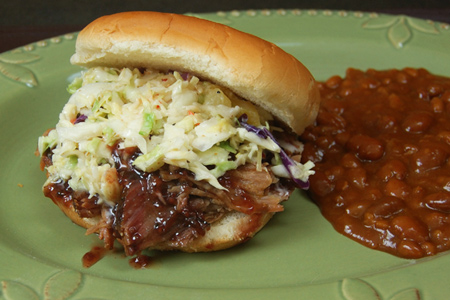 I recently
posted my recipe
for Memphis-inspired pulled pork. Well now it's time to share how I put some of that pork to work.
Pulled pork is traditionally served on a CWB (cheap white bun) with a drizzle or two of sauce, and coleslaw. That's it! It's simple, easy and run-down-your-arm delicious.
I'm generally all about tradition, but sometimes it's good to color outside the lines a bit, so here I've added some fruitiness to the party. The combination of moist smokey pork, a
fantastic raspberry-chipotle sauce
, and slaw kicked up with pineapple truly elevate the sandwich.
Ingredients
8 large Plain hamburger buns
4 cups Pulled pork (
here's
a cheater version)
1 cup
Fischer & Wieser Original Roasted Raspberry Chipotle Sauce®
2 cups Pineapple slaw (recipe follows)
Pineapple Slaw
1 bag (16 oz) Tri-color slaw
1/2 cup Pineapple, crushed and drained
1/3 cup Buttermilk
1/4 cup Sugar
3 Tbsp Mayonnaise
1 Tbsp Canola oil
1 tsp Apple cider vinegar
1 tsp Garlic salt
1/2 tsp Celery salt
1/2 tsp Black pepper, ground fresh
1/8 tsp
Maggi Seasoning
2 tsp Lemon juice, squeezed fresh
Note:
If you can't find Maggi Seasoning, just use a dash each of Worcestershire sauce and soy sauce.
Method
Combine all of the slaw ingredients, except the slaw mix, in a large mixing bowl and whisk until all of the dressing ingredients are smooth and well-incorporated.
Add the slaw and fold it in so that it's evenly coated. Cover and refrigerate 2-4 hours, stirring occasionally.
Warm the sauce and buns.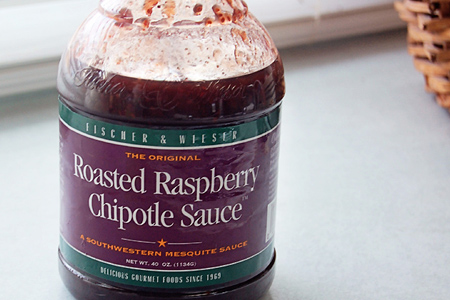 Top each bun with 1/2 cup of pork (hot, of course), 2 tablespoons of sauce, and 1/4 cup of slaw (drained of excess juice).
Tip:
I press the slaw in a pasta fork to remove the juice.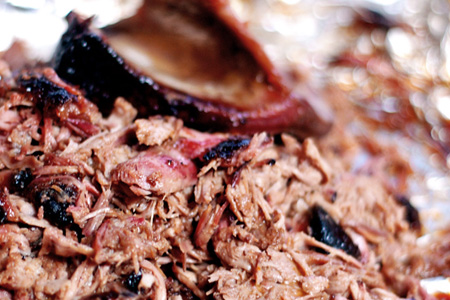 Serve and enjoy!