Unknown
Permanent Link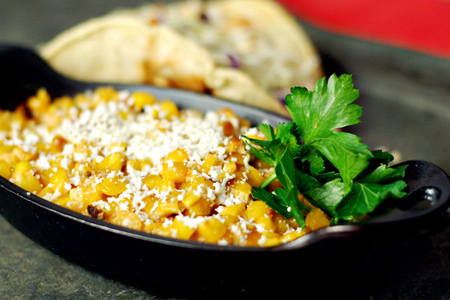 Here's a south-of-the-border twist on creamed corn. It combines the sweet and rustic flavor of grill-roasted corn with tangy crema Mexicana, tomatoes, chiles, a few spices, and a final dusting of cotija cheese to create a great side dish.
I served this alongside my
Spicy Grilled Fish Tacos
and some kicked-up refried beans. The creamed corn has a great balance of sweet and spice.
Part of the inspiration for this dish came from
Chris Lilly's Grilled Mexican Corn
that he served us at
Kingsford University
. This is a sort of deconstructed version of that corn, with my own touches.
Of course this recipe will be
much
better when fresh corn is in season, but this will give you something close year-round. It's a good way to add a burst of summer to an otherwise dreary winter or wet spring meal.
Ingredients
8 medium Ears of corn (I used frozen)
1 can (10 oz)
Rotel Tomato & Green Chilies (mild)
, undrained
3/4 cup Crema Mexicana (Mexican sour cream - I used
Cacique
)
1/2 cup Water
1 Tbsp Your favorite hot sauce (I used
Tapatio
)
2 Tbsp Butter, unsalted
2 tsp Garlic salt
1/2 tsp Ground cumin
1/2 tsp Chili powder
Grated cotija cheese
Method
Start your grill and prepare for indirect cooking at medium-high heat (400-450º).
Roast the corn, turning occasionally, until some of the kernels start to brown and char.
Note:
If you're using frozen corn, either partially thaw it, or expect additional cooking time.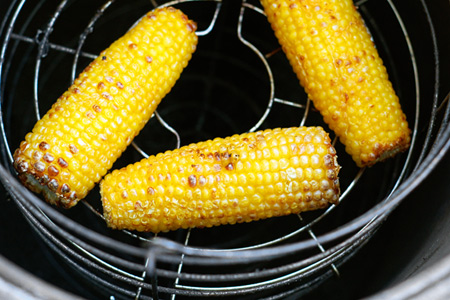 Remove the ears to a platter, tent with foil, and let them rest about ten minutes.
Carefully cut the kernels off of each ear and put them in a large sauce pan.
Using the back of your knife, scrape the remaining bits from each cob and add it to the sauce pan.
Add the water and Rotel to the pan and bring to a simmer over medium heat.
Add the remaining ingredients to the pan and stir to combine.
Cover the pan, reduce the heat to medium-low and simmer 20 minutes, stirring occasionally.
Remove from the heat, uncover and let sit ten minutes, stirring occasionally.
Serve topped with grated Cotija cheese.
Enjoy!
(Makes about eight 3/4 cup servings)