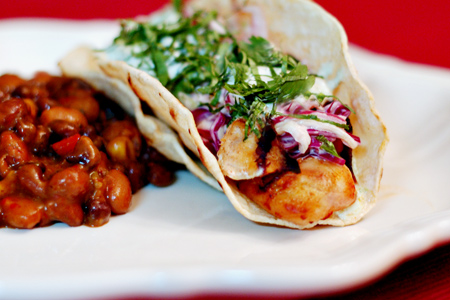 To be completely honest, I had never even heard of fish tacos until I met my SoCal-born-and-raised wife. Even then, I thought that those two words belong
nowhere
even remotely close together. The idea seemed positively disgusting. This is what happens when you're raised in the Midwest, where tacos come only from a drive-thru at a place with a big fake bell on the roof.
Now that I am older, hopefully wiser (certainly grayer), and with broader culinary horizons, I am a true believer. Fish tacos are some seriously good eats.
At the risk of being ridiculed by those in the know, I will call these "somewhat authentic". Or, you might think of them as "Authentic Gringo Fish Tacos". I was going to use that for the post/recipe title, but I had second thoughts.
Shoot, call me and the recipe whatever you want. Let's get cookin'!
Ingredients
6 Talapia fillets
12 Corn tortillas
1 cup
Southwest Slaw
1/4 cup Cilantro, chopped medium-fine
2 Tbsp Hot sauce (I use
Frank's Red Hot
)
Canola oil
Marinade
1/3 cup Canola oil
Juice of two limes
1 tsp Garlic salt
2 Tbsp Adobo sauce (from a can of chipotles in adobo)
Avocado Cream
1 large Hass avacado, peeled, seeded and diced (I recommend
Calavo
, of course)
1 cup Sour cream
Juice of one lime
2 tsp Your favorite hot sauce
1 tsp Garlic salt
Important:
Make sure the fish is fresh! It should be firm, with good color, and a clean briny (not fishy) smell.
If you can't find talapia, any mild white flaky fish would work. Mahi mahi, cod, red snapper, or halibut would be fine.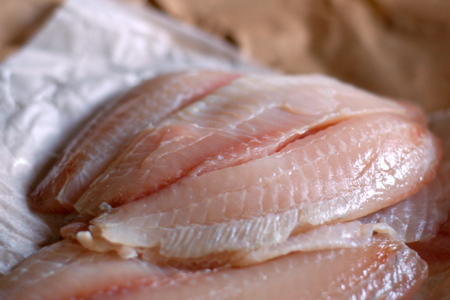 Method
Combine all of the marinade ingredients in a small mixing bowl and whisk to combine.
Put the fish in a gallon zip-top bag and add the marindade.
Slosh the fish and the marinade gently in the bag to ensure that all of the fish is coated.
Seal the bag (removing the excess air) and set aside to marinate for 30 minutes.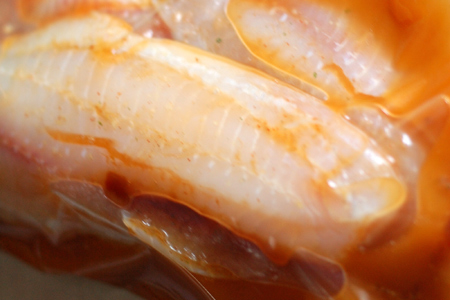 Mash the avocado on a cutting board with the side of your knife.
Combine all of the avocado cream ingredients in an medium mixing bowl and whisk to combine, then cover and refrigerate.
Tip:
The marinade and/or avocado cream can be made up to a day in advance.
Start your grill and prepare for direct cooking over a hot fire (450-500º).
Remove the fish from the marinade and drain well.
Pat each filet dry with a paper towel.
Smear each side of each filet with a teaspoon of hot sauce, applying it as evenly as you can.
Oil the grill grate and both sides of the fish lightly with the canola oil. The oil on the grate will smoke, so wait for it to dissipate.
Put the fish on the grill and cook for three minutes.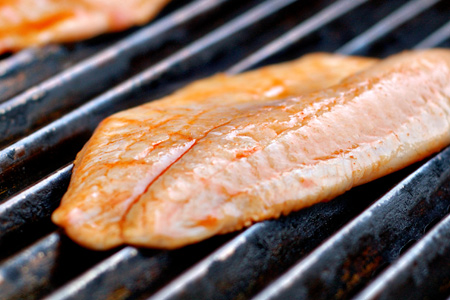 Flip the fish over and cook for another minute.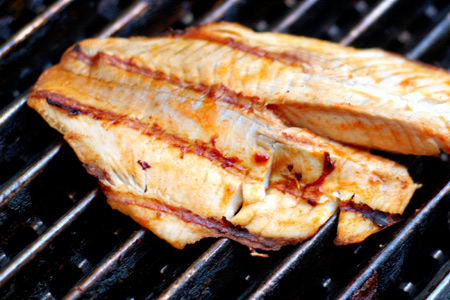 Move the fish to a warm platter, drizzle the fish with lime juice, and cover the platter with plastic wrap.
Quickly warm each tortilla on the grill.
To serve, offset two tortillas by half, smear the inside with avocado cream, add some fish chunks (separated with forks), then top with about two tablespoons of slaw and some cilantro.
Or, serve it family-style so that everyone can build their own.
Enjoy!