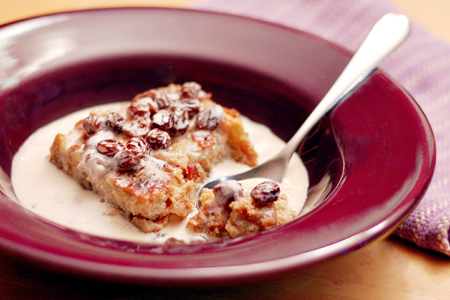 This, my dear friends, is health food at it's very worst. It's my twisted porcine twist on a classic Southern dessert. Don't let that highfalutin French term "crème anglaise" throw you. I go lazy and use melted ice cream that's thinned a little.
I remember when I first heard of bread pudding, and to be honest the thought pretty much disgusted me. My brain just couldn't imagine bread as pudding. It reminded me of that Sesame Street song, One of These Things Is Not Like The Other. To me it was sort of like saying, well, pig candy. Many years later I tried it and found that I was oh so wrong.
Speaking of pig candy, that's the porcine twist that I mentioned. This contains not just
plain ol' pig candy
, but candied bacon that's coated in pecans and glazed again. I just couldn't leave well enough alone.
While this is intended to be a dessert, you can make a more savory breakfast version by leaving out some sugar and skipping the crème anglaise.
Ingredients
16 oz Good French bread, cut to 1" cubes
8 Tbsp Butter, melted
6 slices
Praline bacon
, chopped to 1/4"
4 Eggs, beaten
2 cups Half & half
1 1/2 cups Milk (I used 2%)
1 cup Sugar
1 tsp Vanilla extract
1/2 tsp Pumpkin pie spice (or allspice)
Crème Anglaise
2 pints (14 oz each) Rum raisin ice cream, melted (I used
Häagen-Dazs®
)
1/2 cup Half & half
Put the bread on a rack in a sheet pan and leave to dry overnight.
Tip:
You can speed the process in a very low oven.
Preheat your oven to 350º.
Butter the inside of a 9" x 13" baking dish completely.
Put the bread in a large mixing bowl and drizzle the butter over the cubes as evenly as you can, stirring or tossing occasionally.
Let the bread sit about five minutes, stirring or tossing occasionally.
Combine all of the remaining ingredients, except the bacon, in a separate mixing bowl and whisk very well.
Pour half of the liquid mixture over the bread and quickly fold to coat the bread evenly.
Let the mixture sit about five minutes to absorb the liquid, folding occasionally.
Pour half of the bread mixture into the baking dish and spread it evenly.
Sprinkle the bacon over the bread as evenly as possible.
Add the rest of the bread mixture and spread it evenly.
Pour the remaining liquid over the bread as evenly as possible, then compress the bread with a spatula.
Cover the dish with foil and bake at 350º for 40 minutes.
Uncover and bake another 15 minutes.
Remove from the oven and let cool 20 minutes.
While the pudding is cooling, make the crème anglaise by simply whisking the ingredients in a medium mixing bowl. Refrigerate until you're ready to serve.
Tip:
If you're a raisin lover, as I am, rehydrate some extra raisins in simmering water, then remove them from the heat and toss in some ice to quickly cool them. Drain the raisins and add them to the crème anglaise.
Serve with a good dose of the crème anglaise.
Enjoy!