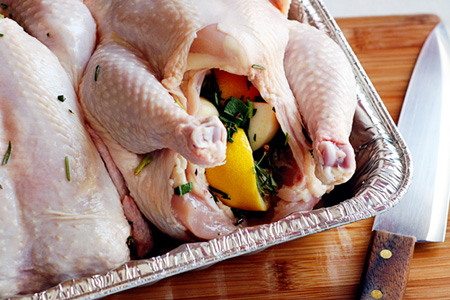 As I
mentioned last month
Chris Lilly shared his great Loaf Pan Chicken recipe with us at Kingsford University. This is my Mediterranean take on that recipe. The technique is quick and easy, and the results are truly spectacular.
If you've struggled with dry chicken from the grill, this process will remedy that. The pan traps all of what would otherwise be drippings and helps to keep the bird very moist. I add the extra step of turing the chickens breast-side-down toward the end of the cook. This literally submerges the breast in the accumulated flavorful liquid, which bastes it and makes it even more moist.
Note:
I cooked two chickens, so I used a 9" x 13" pan. You can use a standard loaf pan for one chicken. I recommend disposable aluminum pans because they require zero clean-up, but it really depends on the size of the chicken.
Ingredients
2 Chickens (4 to 5 lbs each)
4 cloves
Elephant garlic
, quartered (or 8 cloves of regular garlic)
2 Lemons, quartered
1 1/2 cups Applesauce (no sugar added)
1/3 cup Your favorite poultry dry rub (I used
Dirty Bird from Kosmo's Q
)
1/4 cup Worcestershire sauce
10 sprigs Thyme, rough-chopped (about 1/4 cup)
5 sprigs Rosemary, rough-chopped (about 1/4 cup)
5 sprigs Sage, rough-chopped (about 1/8 cup)
Method
Prepare your grill for indirect cooking over medium-high heat (350-375º).
Combine the lemons, garlic, herbs, and one tablespoon of the rub in a mixing bowl and stir to combine.
Combine the applesauce and Worcestershire sauce in a small bowl.
Remove the innards from each chicken, rinse them well, then pat the outside of each dry with paper towels.
Stuff each with half of the lemon, garlic and herb mixture.
Smear the entire outside of each chicken liberally with the applesauce mixture.
Coat the outside of each chicken equally with the remaining rub.
Set the chickens in the pan, facing in opposite directions.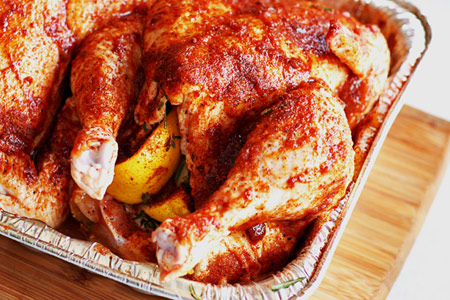 Cook the chickens indirect for 90 minutes.
Flip each chicken over in the pan and continue cooking for 30 minutes, or until the temperature in the thickest part of the thigh is 180º.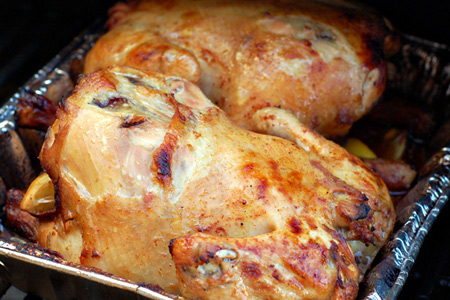 Flip each chicken over again, and continue cooking for 10 minutes.
Remove the pan from the grill, tent it with foil, and let the chickens rest for about 15 minutes.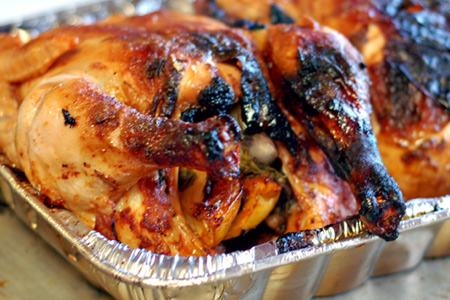 Carve, serve and enjoy!