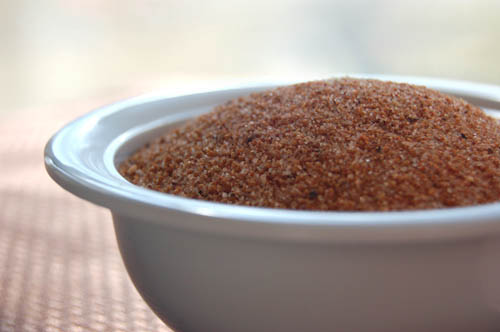 This is for those of you who need or want a great basic all-around barbeque seasoning (or "rub"). This is also a great base recipe for creating your own signature seasoning.
This recipe is very close to what I use in competition cooking. I've left out a few (
very few
) "secret ingredients" so that I can maintain a competitive edge. Take it and make it your own.
When I say that this is "all-purpose", I mean it. This rub works well on every kind of meat, and even vegetables or popcorn.
It's key to remember that any seasoning is only as good as its ingredients. Quality fresh ingredients are what separates a great rub from the pack. Buy the best you can find and you will be amazed at the difference. For outstanding spices I strongly recommend
World Spice Merchants
.
Ingredients
1 c Sea salt, medium fine (no table salt, please)
1/2 c
Unrefined evaporated cane sugar
(no table sugar, please)
1/2 c Dark brown sugar, dried (instructions below)
2 Tbs Sweet Hungarian paprika (the
real deal
, please)
2 Tbs Chili powder (
Spice Islands
is a good store-bought brand)
2 Tbs Granulated onion (not onion "powder")
2 Tbs Dry mustard (I prefer
Colman's
)
1 Tbs Granulated garlic (not garlic "powder")
2 tsp Black pepper, ground fresh (I use a separate
coffee grinder
for spices)
2 tsp Celery salt
2 tsp Ground ginger
1 tsp Ground cayenne
Method
Preheat your oven to 170°.
Pour the sea salt and dark brown sugar on a large sheet pan, mix well, and spread the mixture evenly over the entire pan.
Bake the salt/sugar mixture 60 minutes, or until the sugar is very dry.
Notes:
Drying the sugar prevents clumping and ensures an even distribution in the final product. Drying it with the salt helps prevent the sugar from becoming a solid sheet. It's happened to me, and it's bad. That's how I developed this method.
Combine the remaining ingredients in a large mixing bowl.
When the sugar is dry, remove the pan from the oven and let cool. Once cool, grind the mixture well
in the pan
by rolling it with a rolling pin. Do this several times in alternating directions.
Sift the salt/sugar mixture into the mixing bowl. I use a fine mesh strainer and a
pestle
to break it up further. Toss out any rock-like clumps.
Mix all the ingredients very well (I use a large whisk) and store in an airtight container.
Labels: recipe