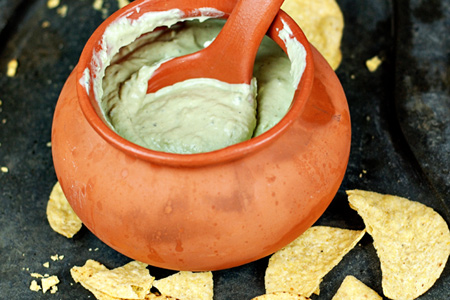 Last spring I whipped up an avocado cream sauce to accompany some
spicy grilled fish tacos
. It was good, but today I added a few twists that made it even better.
As the name implies, this can be used as a sauce and/or dip. It's thick, cool and creamy, almost like a saucy guacamole. I've added two kinds of roasted chiles and roasted tomatillos to give it added depth of flavor.
Ingredients
3 small Hass avacados, peeled, seeded and diced (I recommend
Calavo
, of course)
2 small Tomatillos, paper removed
1 large Jalepeno
1 1/2 cups Sour cream
1 can (4 oz) Fire-roasted green chiles
Juice of two limes
2 tsp Garlic salt
2 tsp Canola oil
1 tsp Kosher salt
Preheat your oven to 450º.
Core and quarter the tomatillos.
Quarter the jalepeno lengthwise, remove the seeds, and slice out the membranes.
Note:
Leave the membranes if you like the added spiciness, or use hotter canned chiles.
Toss the tomatillos and jalepeno with the canola oil and kosher salt in a small bowl to coat, then pour them on a sheet pan.
Roast the tomatillos and jalepeno in the oven for 20 minutes, then remove and let cool.
Mash the avocado on a cutting board with the side of your knife and put them in a medium mixing bowl.
Add the lime juice, green chiles, sour cream, and garlic salt to the bowl.
Dice the cooled tomatillos and jalepeno, add them to the bowl, and stir to combine.
Blend all of the ingredients with a stick blender until smooth.
Note:
You can certainly use a food processor or blender.
Cover and refrigerate for at least two hours.
Serve and enjoy!