Unknown
Permanent Link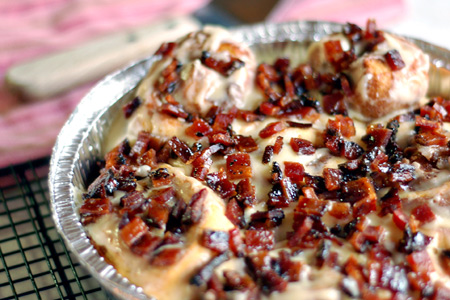 I recently
posted a recipe
for some killer pig candy. Here's how I described it:
How can you possibly go wrong with peppered bacon coated with dark brown sugar, baked, then glazed with pure maple syrup mixed with a little cayenne? Yeah, it's naughty good.
Now, imagine that pig candy chopped and sprinkled atop cinnamon rolls that are first glazed in cream cheese frosting. Need I say more? I thought not.
Ladies and gentlemen, I give you pigamon rolls.
Ingredients
1 pkg Your favorite bake-and-serve cinnamon rolls (I used
Rhodes
)
4 slices
Pig candy
, chopped to about 1/4"
Method
Bake the cinnamon rolls per the package directions, then turn the oven off.
Smear the rolls with the provided glaze.
Sprinkle the rolls with the chopped pig candy.
Put rolls back in the warm oven for five minutes.
Serve and enjoy!