Unknown
Permanent Link


This is one of
those
recipes.
There are certain family recipes that, by the mere smell of them cooking, bring back fond family memories. For me, and I suspect for most, they are the kinds of hearty meals that you eagerly anticipate all day. They evoke thoughts of certain seasons, holidays, or just great times with family and friends. This is just such a recipe.
There is something magical that happens in that dutch oven. The whole house fills with an incredible aroma that immediately makes me think of my childhood with my maternal grandparents. And now that I have my own family I am passing the love down the line.
Sauerkraut and pork isn't at all sexy, but what it lacks in fancy schmancy ingredients and visual appeal it more than makes up for in flavor and pure comfort food bliss. It's simply pork shoulder that is braised in sauerkraut, applesauce and onions. That's it! It's simple rustic peasant food that couldn't really be simpler or better.
Alright, that's enough back-story, let's make some magic.
Ingredients
4 lbs Country-style pork ribs, bone-in
2 Tbsp Canola oil
3 cups Applesauce, no sugar added
2 jars Sauerkraut, 32 oz each
2 Medium yellow onions
Chicken broth, as needed
Kosher salt
Pepper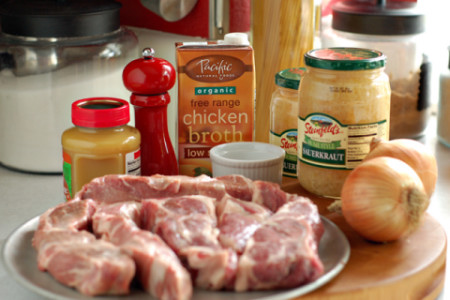 Method
Preheat your oven to 325 degrees.
Season the pork with salt. You don't need too much because there's plenty in the kraut.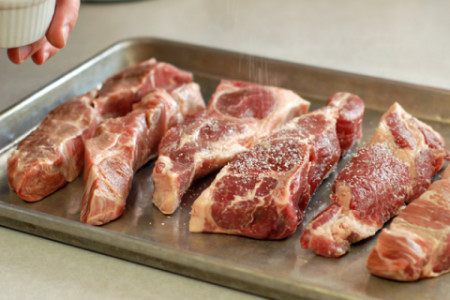 ...then liberally with fresh ground coarse black pepper.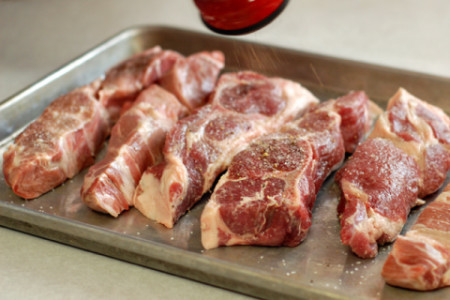 Peel and quarter the onions.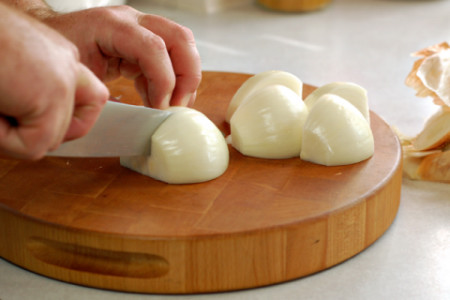 Heat your dutch oven over medium-high heat, add and heat the oil, then add two or three of the pork pieces. You don't want to crowd the pan, so work in batches.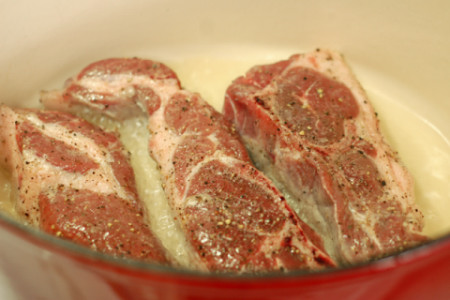 Cook the pork until it is nicely browned on one side, about two minutes. Flip them over and cook another two minutes, or until the other side is nicely seared. Repeat the searing for the remaining pork.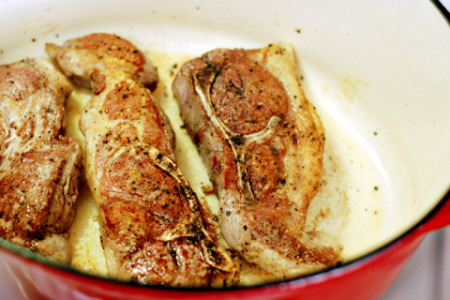 Turn off the heat, remove the pork to a plate, and set aside.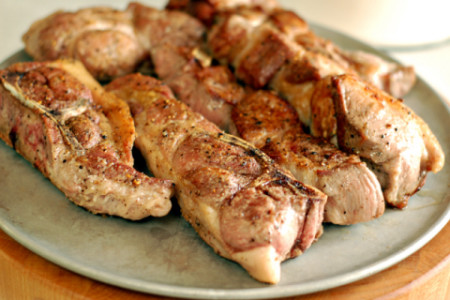 Add the applesauce to the pan and stir to deglaze it.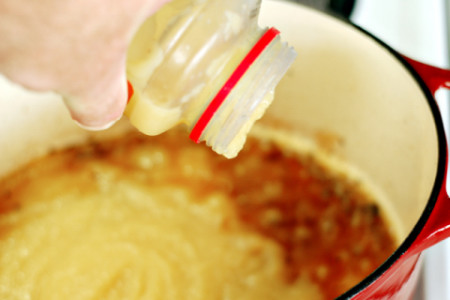 Drain about half of the juice from the sauerkraut. Add the kraut to the pan and stir to incorporate it with the applesauce.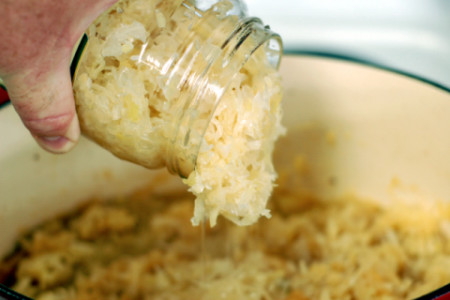 Arrange the pork on top of the sauerkraut and applesauce mixture. It's okay to sort of cram them in there if need be, but try to keep them from being completely submerged.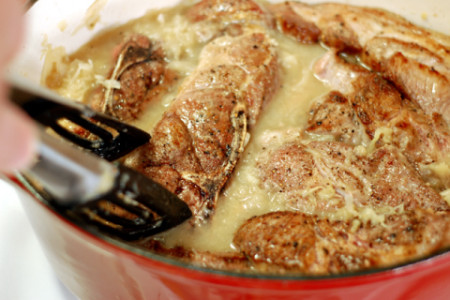 Arrange the onions on top of the pork.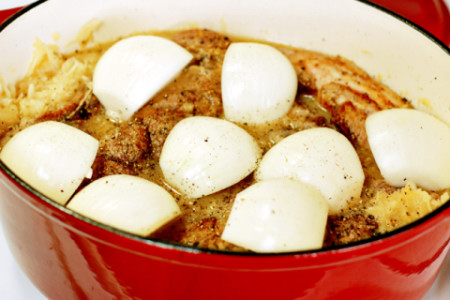 Cover and bake at 325 degrees for an hour and a half.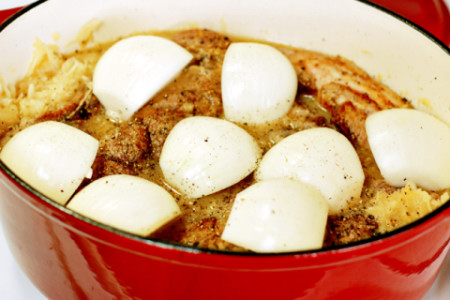 Check the liquid content and add chicken stock if the top looks at all like it's starting to get dry. You want to see the sauerkraut just barely under the surface of the liquid.
Cover and continue cooking another hour.
This is where the magic really starts to happen. Soon everyone in the house will be asking when dinner will be ready.
Uncover and cook another 30 minutes.
You can use this time to make your favorite plain mashed potatoes.
Another option is to add chicken broth and make dumplings right on top. My grandmother would usually make both, as my sister was a fool for the dumplings.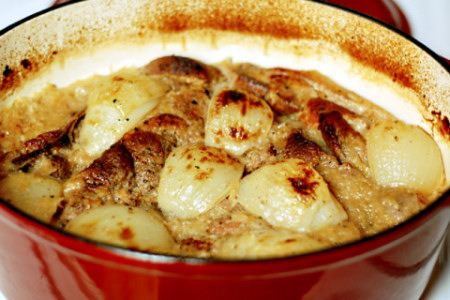 Put a pile of mashed potatoes on a plate, make a well in it, ladle on a bunch of kraut and juice, and top with some of the tender pork and a wedge of onion.
Dive in!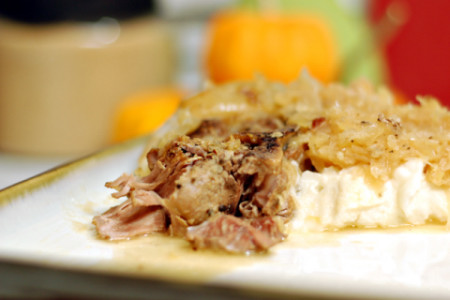 I am greatly humbled and honored to have had this recipe featured today on
the Tasty Kitchen blog
. As
I mentioned
in February, if you appreciate great recipes from passionate cooks,
head on over
, become a member (free), and thank me later.