Unknown
Permanent Link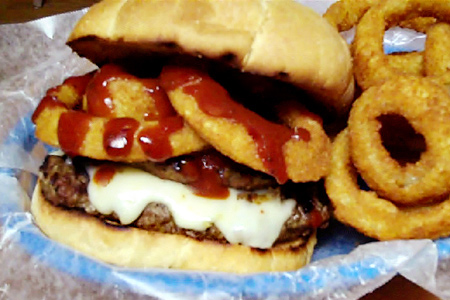 Ladies and gentlemen, allow me to introduce a bodacious burger bonanza. I bring you The Big Onion Burger, or, as I've dubbed it, "The B.O.B.". This is one man's answer to a monster burger craving on a lonely Sunday night when the family is out of town.
Whoever first dreamed up the idea of putting onion rings on a burger is certainly deserving of this country's highest culinary honor.
This is basically a double-decker version of my
Western BBQ Burger
with a few twists. I replaced the cheddar with pepper jack, the grilled onions with onion rings (obviously), and the standard BBQ sauce with a hot version.
It was good!
Note:
I apologize for the poor picture. The good camera is in SoCal with the ladies.