Unknown
Permanent Link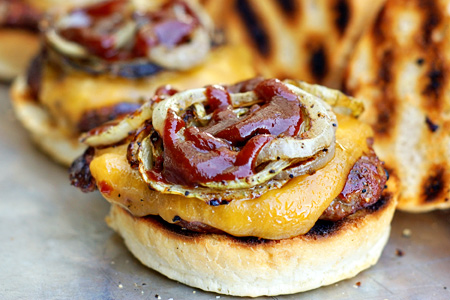 There are few things in life that are better than a great burger. OK, maybe there are more than a few, but it really can't be all that many. This is especially true when you top the burger with a slice of cheddar, some grilled onions (as in actually on the grill), and some tangy BBQ sauce. We're talkin' about some serious USDA grade-A all-American fire-grilled good eats!
Let's break it down!
Ingredients
3 lbs Ground beef, 80/20
6 Buns
6 slices Medium cheddar cheese
1 large Sweet onion, sliced to 1/3" (six slices)
1/4 cup Water, ice cold
1 1/2 Tbsp Your favorite BBQ rub (or 2 tsp seasoned salt)
2 Tbsp Soy sauce
6 Tbsp Your favorite BBQ sauce
Kosher salt
Black pepper
Canola or vegetable oil
Method
Put the beef, BBQ seasoning, soy sauce and water in a large mixing bowl.
Use your hands to mix the ingredients very well. Yes, it's messy.
Divide the meat into six equal portions and form them into evenly-sized patties 1/2" thick patties (about six inches in diameter).
Sprinkle both sides of each patty with pepper.
Use your index finger to put a hole in the center of each patty and set them aside.
Season both sides of each onion slice lightly with salt and pepper, being careful to leave the rings intact.
Lightly oil both side of each onion slice.
Start your grill and prepare for direct and indirect cooking (heat to one side) over a medium-hot fire (375-400º).
Grill the onions over direct heat for about two minutes per side, then move them to the cooler side of the grill.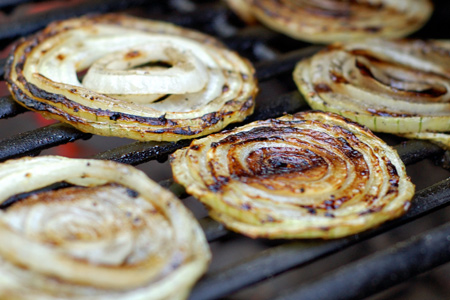 Lightly oil both sides of each burger.
Grill the burgers over direct heat for three minutes.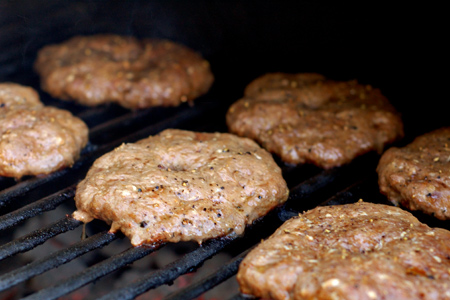 Flip the burgers and cook them another three minutes.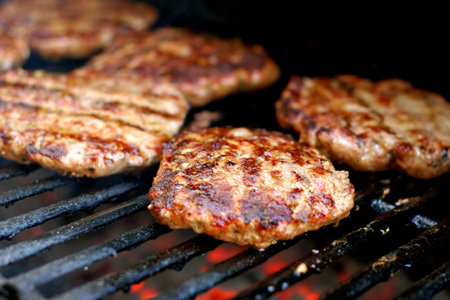 Move the burgers to the cooler side of the grill and top each with a slice of cheese and a grilled onion slice.
Toast the buns over direct heat.
Top each burger with a healthy drizzle of barbecue sauce.
Serve and enjoy!