Unknown
Permanent Link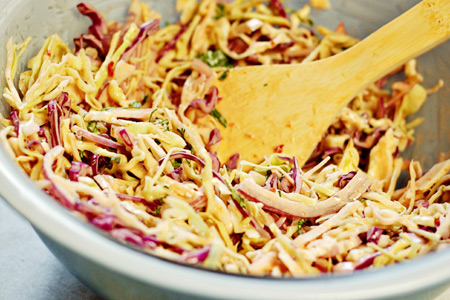 I made this slaw to go atop some grilled fish tacos (to be posted later) and it was a hit with the family. Aside from being good, it really doesn't get much simpler than this. Despite the name, this would be welcome in almost any situation where you'd serve coleslaw.
Ingredients
1/4 head Green cabbage
1/8 head Red cabbage
1/4 medium Red onion, sliced very thin (about 1/2 cup)
1/8 cup Cilantro, chopped medium-fine
Dressing
3 Tbsp Mayonnaise
Juice of two limes
1 tsp Garlic salt
1 Chipotle chile, in adobo sauce (canned)
1 Tbsp Adobo sauce (from the canned chiles)
Method
Combine all of the dressing ingredients in a small mixing bowl with tall sides, or a large tumbler cup/glass.
Blend the ingredients well with a stick blender, then set aside.
Slice the green cabbage thin (just under 1/4") and put it in a large mixing bowl. You need about three cups.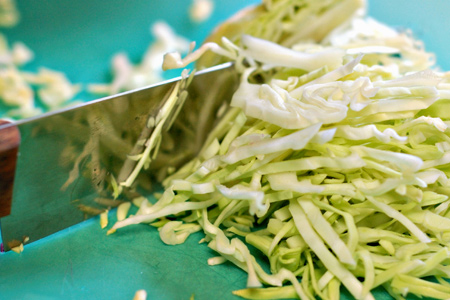 Slice the red cabbage just like the green and add it to the mixing bowl. You need about 1 1/2 cups.
Add the sliced onion, cilantro, and the dressing to the bowl.
Stir all of the ingredients well.
Cover and refrigerate for at least 30 minutes.
Serve along side/on top of your food of choice and enjoy!
(Makes about 4 cups)