Unknown
Permanent Link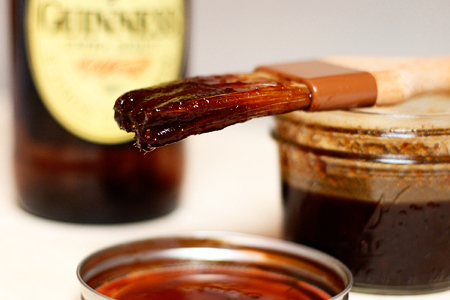 I created this sauce for my St. Patty's Day
broiled lamb chops
, but it turned out to be so good that I think it warrants its own post. It has a good balance of sweet and savory, but maintains the unmistakable flavor of Guinness®. My kids even liked it, which is a great testimony for an on-the-fly recipe.
Ingredients
1 1/2 cups Guinness® Extra Stout
1/2 cup Chili sauce (I used Heinz)
1/2 cup Brown sugar
2 Tbsp Red wine vinegar
1 Tbsp Worcestershire sauce
1 Tbsp
Pickapeppa sauce
1 Tbsp Honey
1 tsp Garlic salt
Method
Add the beer and garlic salt to a medium sauce pan and whisk to combine.
Heat the pan over medium heat, add the remaining ingredients, and whisk to combine.
Simmer until the sauce is reduced by half (about 15-20 minutes) and set aside to cool.
Brush it on your carnage of choice during the last 5-10 minutes of cooking.
Enjoy!
(makes about 1 1/4 cups)