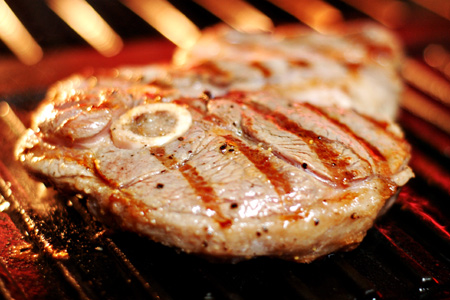 By the time I post this it will be St. Patty's Day, so I've obviously succumbed to the expectation to have an appropriate Irish-inspired recipe. I've tried to be somewhat creative and I think it has paid off. I hope you agree.
This is a relatively simple dish that is big on flavor. The barbecue sauce is a good balance of sweet and savory, but maintains the unmistakable flavor of Guinness®. What better way to use it than slathered on a nice piece of lamb? The two work very well together.
Note:
This recipe calls for a cast iron grill griddle, but a standard broiler pan will certainly suffice.
Ingredients
4 Lamb arm chops (about 3/4" thick)
1 1/2 cups Guinness® Extra Stout
1/2 cup Chili sauce (I used Heinz)
1/2 cup Brown sugar
2 Tbsp Red wine vinegar
1 Tbsp Worcestershire sauce
1 Tbsp
Pickapeppa sauce
1 Tbsp Honey
1 tsp Garlic salt
Kosher salt
Pepper
Canola oil
Method
Add the beer and garlic salt to a medium sauce pan and whisk to combine.
Heat the pan over medium heat and add the chili sauce, brown sugar, vinegar, Worcestershire, Pickapeppa, and honey.
Whisk the sauce ingredients together and bring to a simmer.
Simmer until the sauce is reduced by half (about 15-20 minutes) and set aside.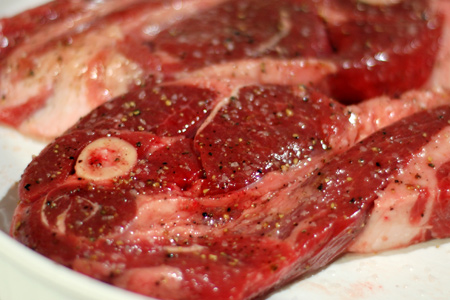 Season both sides of each chop with salt and pepper and let sit at room temperature for 20-30 minutes.
Move your oven rack so that it is about three or four inches from the broiler element (top of your oven).
Put the griddle/pan on the rack and preheat your oven to 550* for about 20 minutes.
Turn the oven to broil.
Brush both sides of each chop with a thin coat of canola oil.
Broil the chops on the griddle/pan for three minutes.
Flip the chops over, brush quickly with the sauce, and broil another three minutes.
Brush the top of each chop quickly with the sauce, broil another 30 seconds.
Note:
These cooking times are approximate for medium-rare, so adjust accordingly.
Remove the chops to a platter, tent with foil, and let them rest about five minutes.
Drizzle each chop with sauce, serve and enjoy!