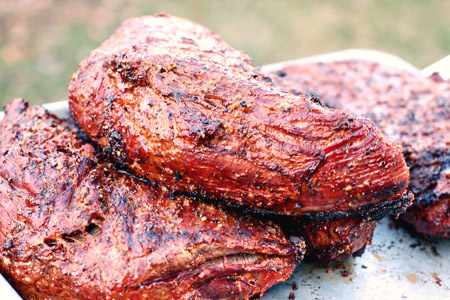 This is my version of Santa Maria (SoCal) tri-tip. The real deal requires cooking over red oak, which is hard to come by here in Idaho. I settle for a mix of standard briquets and mesquite lump charcoal. It gives just enough smoke and the mesquite burns very hot, which helps keep the cooking temperature up.
Tri-tip is a triangular cut that comes from the bottom of the sirloin primal. Since it's sirloin, it lends itself very well to grilling. It's a little leaner than a sirloin steak, but its size makes it somewhat forgiving to cook. It has a great beefy flavor and is tender if you cook it no further than medium (145º). It's sometimes hard to find in the eastern part of the country, but try it if you can find one.
Enough already, let's get on with it!
Note:
I cooked several roasts for a large party. The measurements listed below are for one roast.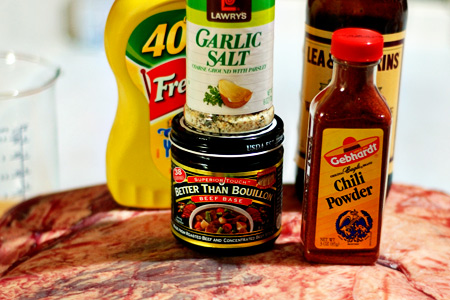 First, I mixed the schmear.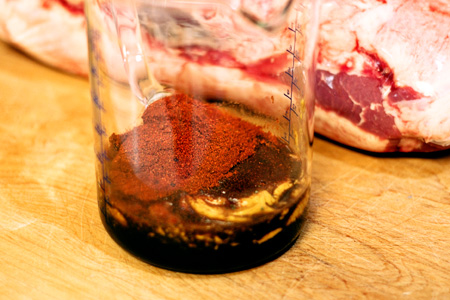 Ingredients
1 Tri-tip roast (2-3 pounds)
2 Tbsp Worcestershire sauce (Lea & Perrins, of course)
2 Tbsp Montreal steak seasoning (I recommend
McCormick's
)
1 Tbsp Plain yellow mustard (I use French's)
2 tsp Chili powder (I recommend
Gebhardt's
)
2 tsp Beef base (I recommend Better Than Bouillon)
1/2 tsp Garlic salt
Method
Combine all of the ingredients, except the Montreal steak seasoning, in a small mixing bowl. Mix well and set aside.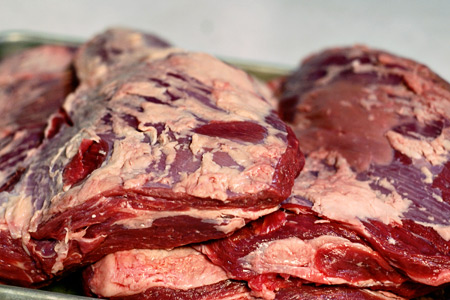 Peel and trim the roast. I say "peel" because it may have a layer of loose fat on one side. Peel that away with a sharp knife then trim off any large chunks of fat.
You want to leave some fat on the outside if you can. All too often supermarket roasts are over-trimmed. If that's the case, just press on.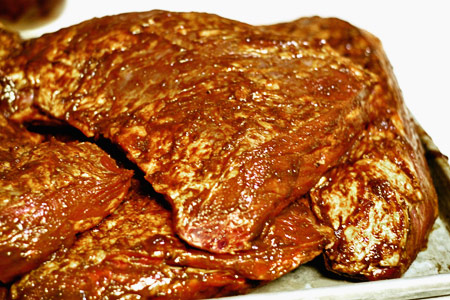 The next step is to give the roast its mud bath with the schmear. There
ain't no pretty way to do this. You've just gotta dive in and get your hands
very dirty. Make sure you get it completely covered as evenly as possible.
Put it in a zip-top bag and put it in the fridge to get happy for at least six hours, or preferably overnight.
Take it out of the bag and let it set out for about an hour before you are ready to cook.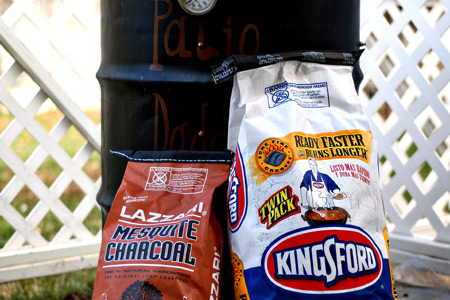 Start a good sized fire with a 50/50 mix of mesquite lump charcoal and whatever briquets you use and
prepare for indirect cooking
. You are shooting for a cooking temp of 350*. If you're using a gas grill,
make a smoker pouch
with some mesquite chips.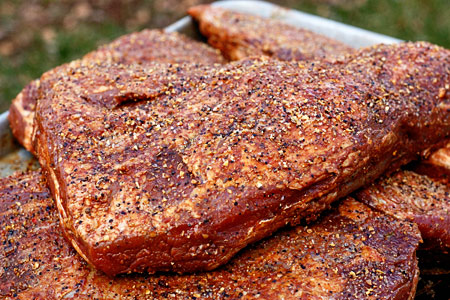 Just before they are about to go on, hit both sides of the roast with a decent
coating of Montreal Steak seasoning. Press it in to make sure it sticks.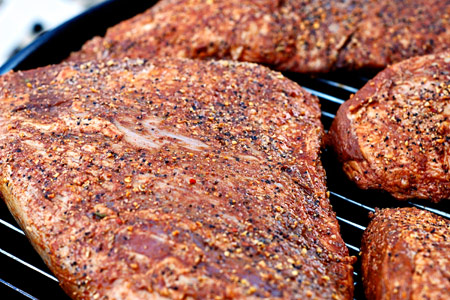 Once your grill or cooker is hot, commence cookage! You want to cook it indirect, starting with the fattier side down.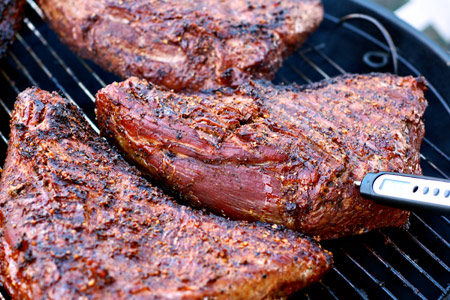 When the internal temperature in center of the thickest part of the roast reaches 120º (about 30-45 minutes at 350-375º) flip it over.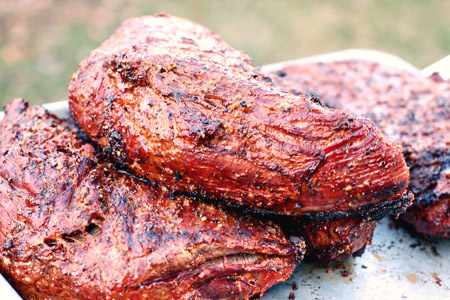 Continue cooking until the internal temperature reaches 130º (about 20-30 more minutes).
Move the roast to a platter, tent it with foil and let it rest 15-20 minutes.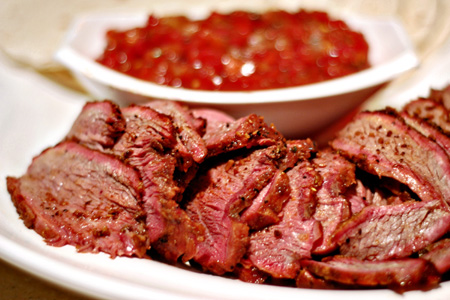 Cut across the grain into 1/4" slices, serve with some nice salsa and some warm flour tortillas.
You've got yourself a crowd-pleasin' spread o' cow.
Enjoy!