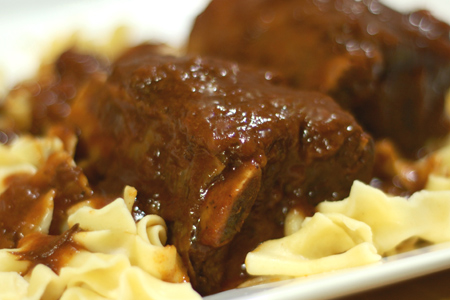 Many of us probably think of "goulash" as a dinner from our childhood. It's typically elbow macaroni mixed with ground beef and some form of tomato sauce. Well, as fond as I was of my mother's goulash, it is far from the traditional Hungarian dish. True goulash is essentially a thick stew made by braising meat (usually beef) with onions, paprika and water. This is the inspiration for this dish, thus the "Hungarian" in the name.
These are beef short ribs, browned, coated with sweet Hungarian paprika then braised long and slow in beef stock with shallots, red wine, and a little tomato for a subtle sweetness and added body. What emerges is tender and unctuous beef in a rich velvety sauce. I served them over egg noodles.
Note:
It's critical that you use real paprika. If yours is more than three months old, buy new. Either the Hungarian or Spanish variety will work well. You could even add a dash of smoked paprika as an interesting twist, but go easy with it.
Ingredients
10 Beef short ribs (about 5 pounds -- meaty and generally uniform in size)
1 can (10.75 oz) Tomato puree
2 large Shallots, diced
3 1/4 cups (26 oz) Beef stock
1 cup Water
1/2 cup Red wine (slightly sweet -- I used Snap Dragon red table wine)
6 Tbsp Sweet paprika (the real deal)
3 Tbsp Canola oil
2 Tbsp Kosher salt
2 Tbsp Tomato paste
1 Tbsp
Worcestershire pepper
(or plain black pepper -- see the note below)
1 tsp Dry thyme
2 Bay leaves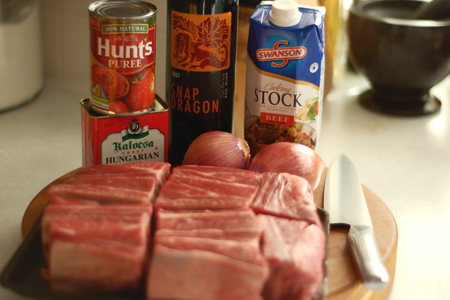 Method
Preheat your oven to 325º.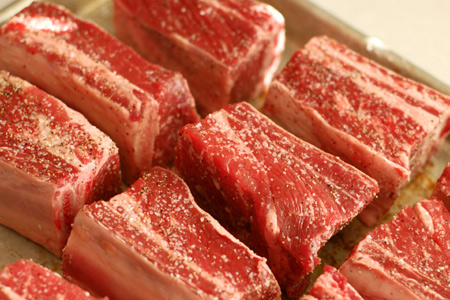 Put the ribs on a sheet pan and season all sides liberally with the salt and pepper.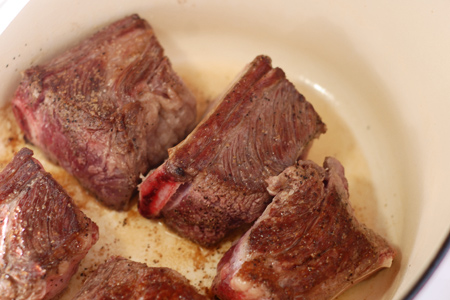 Heat the oil in a large Dutch oven over medium heat. Add half of the ribs to the pot and brown them nicely on all sides (2-4 minutes per side). Move the browned ribs to a sheet pan and repeat with the remainder.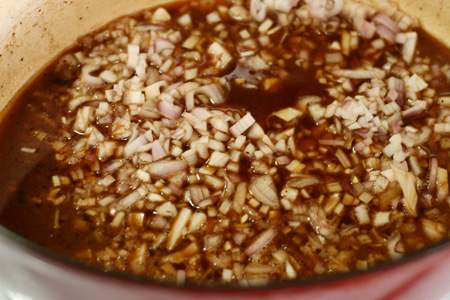 Add the wine to the empty pot and stir to deglaze the brown bits on the bottom. Add the stock, water, shallots, tomato puree, thyme and bay leaves. Bring the liquid to a simmer.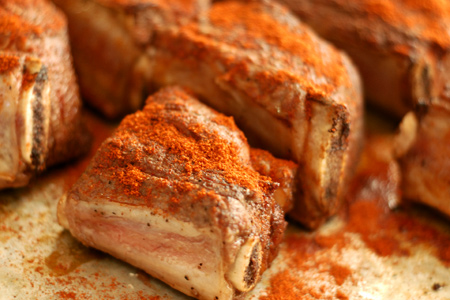 While the liquid is coming to a simmer, coat all sides of the ribs with the paprika and smear it around to form a paste-like coating.
Note:
If you can't find the Worcestershire pepper, just coat the ribs with a little Worcestershire sauce before adding the paprika.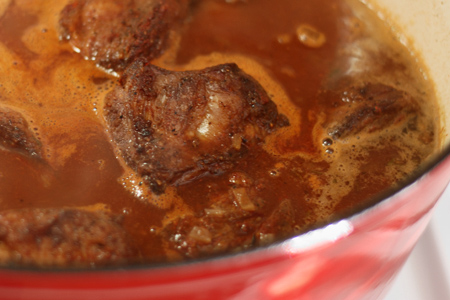 Add the ribs to the liquid and arrange them so that they are in a single layer. Cover, move to the oven, and cook for 2 1/2 hours.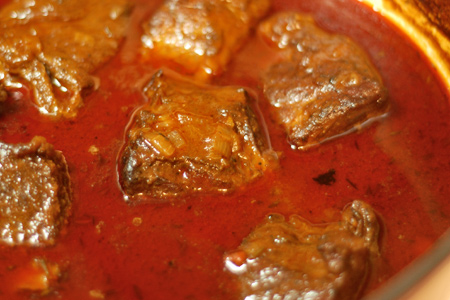 Remove from the oven to the stove top at medium heat. Add the tomato paste and stir the liquid gently to dissolve and distribute it.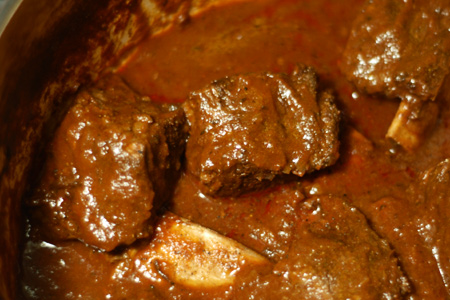 Cook, uncovered until the meat is fork tender. Serve the ribs and sauce over egg noodles.
Enjoy!