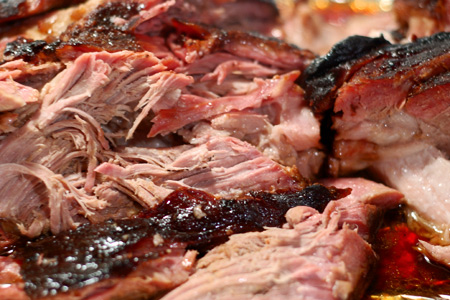 The other day I did a test butt cook with
Kosmo's pork injection
. I
loved the beef formula
, so I was sure this would be equally good.
Here is a quick play-by-play of the cook.
I mixed 3/4 cup mix to 3 cups of apricot nectar and injected them evenly. I then applied a liberal coat of
my competition rub
and let them marinate for two hours.
They went on the
Ugly Drum Smoker (UDS)
at 350º.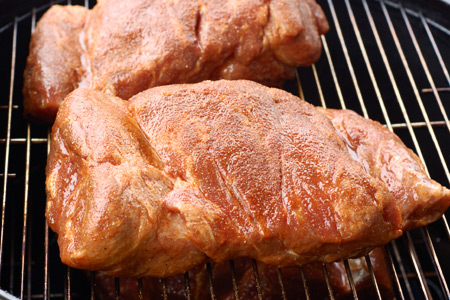 Two hours into the cook and the two smaller (top) butts (just shy of 7 lbs each) were at 122º and 124º.
The UDS vents were wide open and running at about an average of 315º, but I use a water pan, so a lower temp at the grates is expected.
The water was almost gone, so the temp ramps up from here, just like I want it to.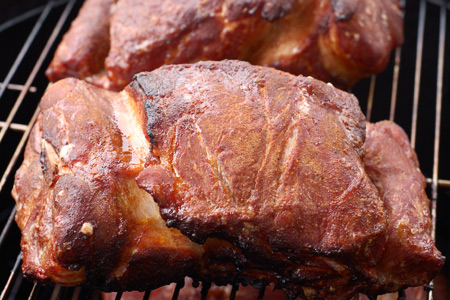 Three hours in, and I checked the temp on the larger butt on the lower rack (about 8 lbs). As you can see, it was at 138.6.
The two smaller butts on the top rack were at 154º.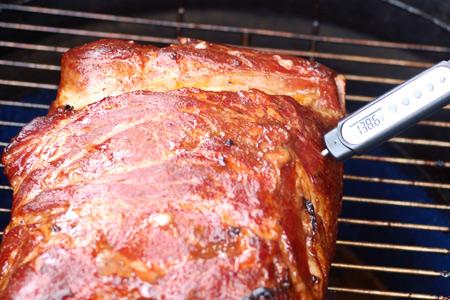 At 4 1/2 hours in the smaller butts were at 181º. It was time to wrap these bad boys with some apple juice!
I double-wrapped the smaller guys with about 1/4 cup of apple juice each, and I put them back on the top rack.
The larger butt (lower rack) was at 168º so I left it there.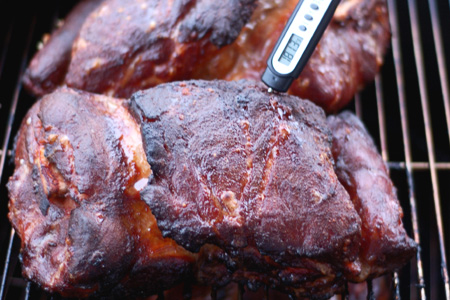 Note that there really isn't much of a stall/plateau when cooking hot-n-fast. The meat just powers right through it.
At 5 hours and 45 minutes the smaller butts were done (at 197º). The photo at the top of the post shows the finished product.
I must say that I am very impressed with Kosmo's injection. The moisture and flavor were outstanding. It really boosted the pork taste without even so much as a hint of an off flavor.
I highly recommend it!
Labels: pork