Unknown
Permanent Link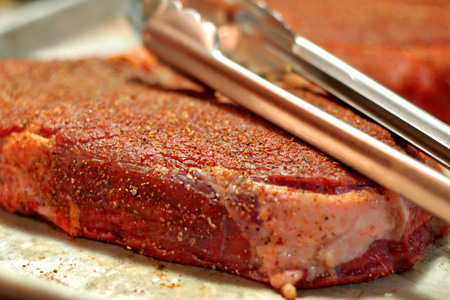 Today I was on a monster steak mission, and I scored two huge top sirloins. These bad boys were about ten inches across and just shy of 1 1/2 inches thick. We're talkin' steaks that would almost make a cowboy blush.
For this beef extravaganza I decided to try pairing two steak preparations that I've previously featured --
"Steak: Average to Awesome!"
and my
"Cowboy Top Sirloin"
. I simply used each method in succession and the results were incredible. The steaks were perfectly seasoned throughout, with a great crust. These were select grade, but you'd never know it.
Admittedly, there's not much new in this post, but I thought I'd share it anyhow. If you want a seriously killer piece of cow, give this method a shot.
Labels: beef