Unknown
Permanent Link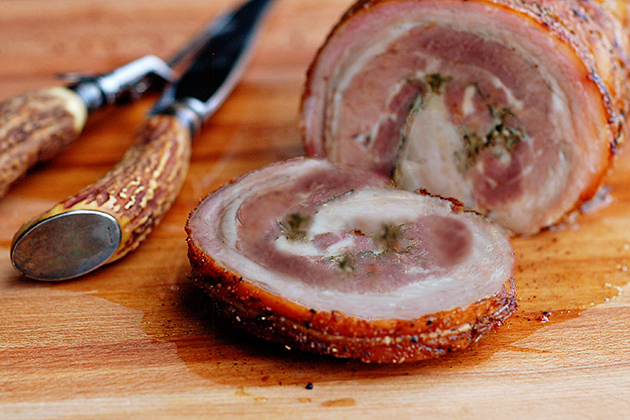 Porchetta is a beautiful and glorious thing. How can you possibly go wrong with 7 lbs of herb-stuffed, jelly-rolled and fire-roasted heritage pork belly? That's right, you simply can't. Make one of these the next time you have guests over for a barbecue or to watch a game, then sit back and watch the looks of porcine bliss on their faces.
The traditional Italian porchetta (pronounced por-KET-a) is made of a deboned whole hog that is stuffed with garlic and herbs then rolled and roasted on a spit over wood coals. An American adaptation was to wrap pork belly around the pork loin. This was easier in years past because one could simply have their butcher leave the loin attached to the belly. That would be a tall order nowadays, so this new adaptation is made by simply using only the belly. It's far less laborious to prepare, but the results are still incredible.
If you want to try one of these at home leave a comment below for a chance to win a
Snake River Farms gourmet Kurobuta pork belly
. We will select a winner at random. Since I obviously need a way to contact the winner, your comment must either link to or contain your e-mail address. The deadline for entries is 12:00 AM MDT Tuesday, July 22, 2014.
Note:
Ideally you want to use a skin-on belly in order to get that lovely cracklin crust, but it's not required. The belly I used for this recipe did not have the skin on and the crust was still excellent, it just wasn't crispy and crunchy.
Ingredients
1 6-7 lb Snake River Farms pork belly (approximately 10" wide, 16" long, and 1 1/2" thick)
1/4 cup + 2 Tbsp Kosher salt, divided
1/4 cup Finely chopped fresh fennel fronds (the leafs and tender stems)
2 Tbsp Finely chopped fresh rosemary
2 Tbsp Finely chopped fresh thyme
2 Tbsp Finely chopped fresh sage
8 cloves garlic, minced (about 4-5 teaspoons)
Zest of one orange
Zest of one lemon
1/2 tsp Crushed red chile
2 tsp Olive oil
2 tsp Black pepper, ground medium
Method
Unwrap the pork belly, rinse well with cold water, and pat dry with paper towels.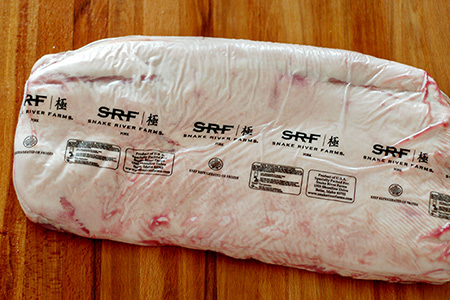 Combine all ingredients except the belly, two tablespoons of the salt, the oil, and the pepper in a small mixing bowl and mix well to combine.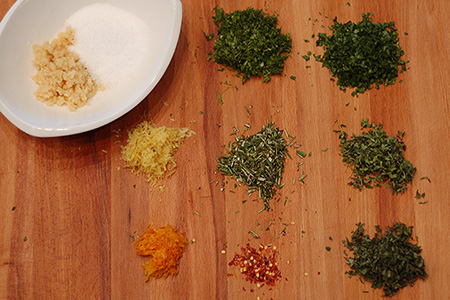 With the pork belly skin/fat-side-up on a cutting board, cut slits 1/3" deep and 3/4" apart in a crosshatched pattern. Rub two tablespoons of the salt thoroughly into the skin/fat, then flip over.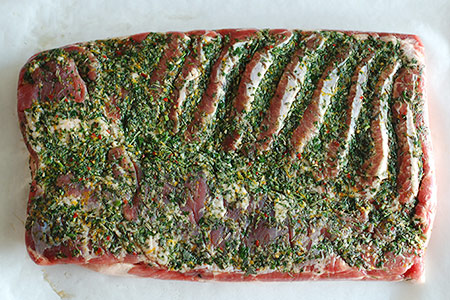 Using a filet or paring knife pierce all the way through the meat side of the belly about every square inch. Spread the herb mixture evenly over the belly.
Wrap the belly very well in plastic wrap and refrigerate 24 hours.
About 3 1/2 hours before you plan to serve, remove the belly from the refrigerator and let sit at room temperature for 30 minutes.
While the belly is sitting, preheat your grill for indirect heat at medium heat (about 300º).
Cut 12 pieces of butcher's twine 18" long. Unwrap the belly and roll in a jelly roll fashion and tie about every inch with the twine.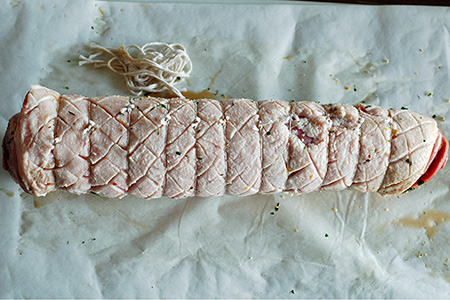 Cut the porchetta into two equal pieces, coat all sides of each piece with oil and season evenly with the ground black pepper. Grill both pieces indirect until the internal temperature reaches 160º, about 2 1/2 hours. There is no need to flip or turn the porchetta during the cooking.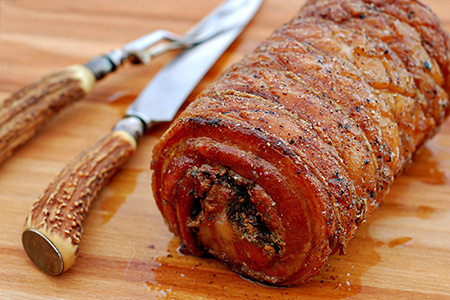 Remove the porchetta to a platter, tent loosely with foil, and let rest 15-20 minutes.
Cut the porchetta into slices about 1/2" thick, serve and enjoy! I served mine on a toasted ciabatta roll, topped with arugula and pickled red onion.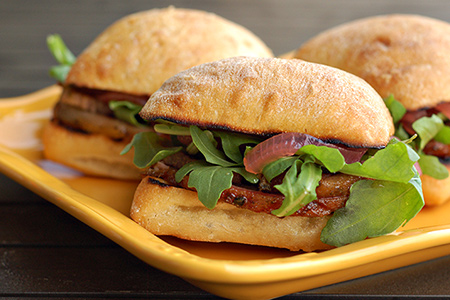 Disclaimer:
I am a partner of Snake River Farms and I was compensated for this post, but the thoughts and feelings expressed here are completely my own.