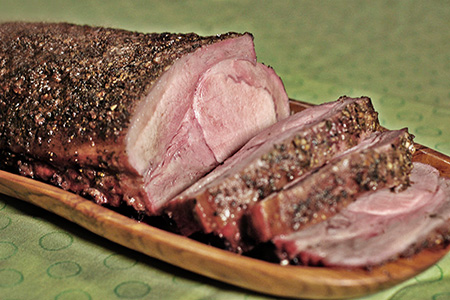 It's Good Friday, and do I have something good for you! I've recently partnered with the great folks at Snake River Farms. It's no exaggeration when I say that they are the producers of some of the best beef and pork on the planet. They sent me some of their Prime Rib of Pork, and I used the opportunity to put my spin on this incredible cut, just in time for Easter.
In the past I've
discussed
the difference between real pork and what Americans have come to know as pork. In short, the pork that you find at your local mega-mart bares about as much resemblance to real pork as a Chevy does to a Mercedes. The general form and function are the same, but the quality is vastly different. For those of you who might be thinking, "Yeah, but how much better can it really be?", the short answer is night-and-day. Snake River Farms pork is Kurobuta which means "black hog/pig" in Japanese, which translates to heritage Berkshire hogs in English, and crazy good in foodie.
Given the incredible quality of this pork I decided to do a minimal preparation so that the meat could shine on its own, so I opted for a relatively simple garlic and herb paste. For cooking I roasted it over Kingsford charcoal (a 50/50 mix of their Competition and original briquets) on the rack in my Pit Barrel Cooker. You can use whatever grill you have, or you can simply roast it in your oven.
Let's get this show on the road.
Note:
My roast was bone-in, and it's traditional to
French the ends of the bones
for a nicer appearance. I chose not to so as to not waste any of this tremendous pork.
Ingredients
7 lb
Prime rib of pork
6 cloves Garlic, minced
2 Tbsp Olive oil, extra virgin
2 Tbsp Chopped fresh thyme
2 Tbsp Chopped fresh oregano
1 Tbsp Dijon mustard
1 Tbsp Kosher salt
2 tsp Dried herbs de Provence
2 tsp Black pepper, ground fresh to a medium grind
Method
Combine all of the ingredients, except the pork, in a medium mixing bowl and stir well to combine.
Rinse the pork under cold water and pat dry with paper towels.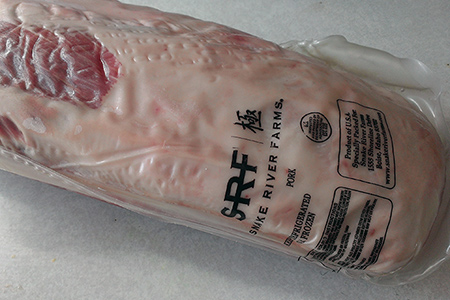 Coat the roast evenly with the herb mixture.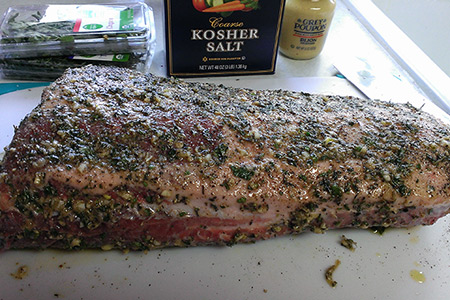 Note:
You can season and refrigerate the pork 4-6 hours in advance.
Start your grill and prepare for indirect cooking over medium heat (300-350º).
Grill over indirect heat until the temperature in the center of the thickest part of the roast reaches 135°.
Remove the roast to a platter, tent loosely with foil and let rest 15-20 minutes.
Carve into one or two-bone portions, serve and enjoy!
Note:
If you've cooked the pork properly it will have a pink color in the center. Pink does not mean dangerous, it means delicious.
(Makes 4-6 servings)
Disclaimer:
I am a partner of Snake River Farms and I was compensated for this post, but the thoughts and feelings expressed here are completely my own. Regardless, their products are incredible and I recommend them very highly. Gitcha some!