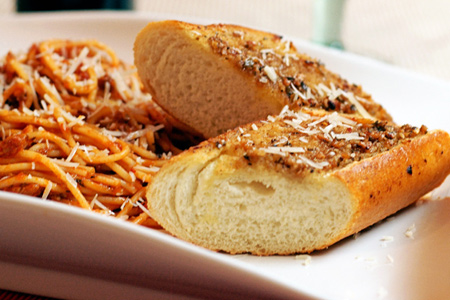 I am a pasta freak! I am also a bread freak! It just so happens that good pasta requires good bread, and that's where this recipe comes in. This is really just a modified version of my previous Cheesy Garlic Bread recipe. Pretty creative naming, eh?
As I mentioned in the original recipe, the recipe makes more than you'll need for a loaf of bread, but since it's really just a compound butter there are all kinds of great ways to use it. A pat of compound butter melted on a steak is devine! Or, you could color a little outside the lines and use it to funkify a grilled cheese.
Ingredients
2 sticks (1/2 lb) Butter, unsalted
1/2 cup Parmesan cheese, grated
1 Tbsp Olive oil, extra virgin
1 Tbsp Garlic, minced
3 Tbsp Pesto
2 Tbsp Honey
Dash Ground cayenne
1 Par-baked (take-n-bake) 12 oz French baguette
Preheat your oven to 400º.
Melt half of the butter in a small sauce pan over medium heat. Add the olive oil and garlic, and cook two minutes.
Remove the pan from the heat, add the other half of the butter and all of the remaining ingredients. Stir well to combine and let cool.
Slice off about half an inch of the top of the baguette, lengthwise. Smear the cut side of the baguette well with the butter mixture.
Bake the baguette per the package instructions.
Turn the oven to broil for a couple of minutes to brown the top nicely.
Caution: Watch it very closely, as it can burn very quickly.
Remove the bread from the oven.
Slice, serve, and enjoy!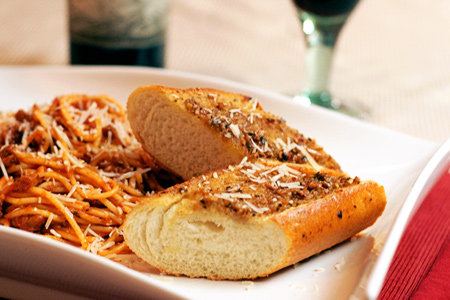 Makes about 1 1/2 cups
Suggestion:
For me great pasta and great bread require a great glass of red wine.
Alamos Malbec
is a frequent go-to for me. You may have noticed it in the background of the picture above. Get some and thank me later.