Unknown
Permanent Link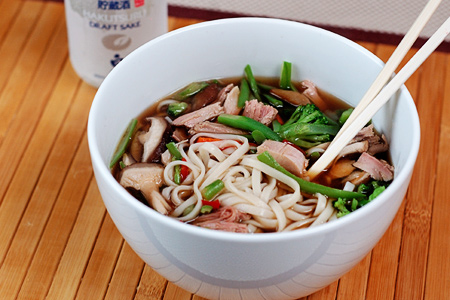 Thanksgiving is toast, but now we all have a common dilemma — leftovers. Typically my first leftover meal, aside from the obligatory midnight turkey sandwich, is turkey noodle soup. This year I decided to color way outside the lines and go with a Japanese version.
The first prerequisite for this recipe is a rich homemade stock. Making homemade stock is a great way to use the carcass, and homemade really does make a huge difference. Just say no to the box/can! If you're lazy and impatient like me, just follow
my simple pressure cooker recipe
. If you smoke or fry your bird you should buy some extra turkey parts (I recommend wings and/or necks) just for the stock. Smoked stock might be good for some applications, but this isn't one of them. If you have extra room in your oven just throw the parts in a pan and roast them along with your standard Thankgiving food. Another great tip is to throw a pound of ground turkey in the pressure cooker. It really helps to make a very flavorful and rich stock.
I did some research to try to make this as authentic as I could, but the recipes were pretty much all over the map. Ironically, it turns out that udon is the Japanese answer to the "What am I going to do with all of this leftover _____?!" question. I'm pretty sure that there aren't many turkeys running around in Japan, so my attempt at authenticity is probably out the window. Given that, I don't know what turkey udon is supposed to taste like, but I do know that it was good enough to give my traditional turkey noodle soup a serious run for its money. Aside from being good, it was a welcome break to turkey overload. In fact, I'd bet that you could blindfold someone and feed them this and they'd have very little clue that it was turkey.
OK, strap on your best rising sun headband and let's get cooking!
Ingredients
2 1/2 cups
Turkey stock
3 Tbsp Soy sauce (more or less depending on how your stock is seasoned)
2 Tbsp Mirin (in the Asian section of many grocery stores)
2 Tbsp Sake (Japanese rice wine)
1 bundle (about the diameter of a quarter) Dried udon, cooked per the package instructions
2 cups Frozen Asian vegetables, steamed
1 cup Cooked turkey, chopped
1/2 cup Fresh shitake mushrooms, steamed until tender
1/4 cup Green onions (green tops only), sliced on a bias to 1/4"
Combine the stock, soy sauce, mirin and sake in a medium sauce pan, bring to a simmer and cook ten minutes.
Put half of the noodles, turkey and vegetables (hot) into each of two bowls.
Add half of the broth mixture and half of the green onions to each bowl.
Serve and enjoy!
Makes two servings