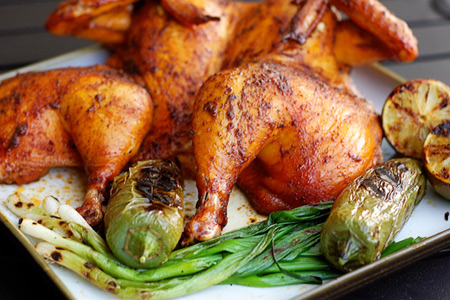 As I've said many times before, poultry is hands-down my favorite thing to grill and barbecue, especially chicken. I'm always looking for new ways to explore fire-roasted yard bird. This time out I go south of the border, Daddio-style.
This recipe is perfect for summer outdoor entertaining. It's simple, but the result is a beautiful and somewhat mysterious (in a good way) blend of light citrus and spices that is a welcome departure from your typical grilled chicken. You can serve it cut into pieces on the bone or shred it for some killer chicken tacos. It's traditionally served with grilled green onions, and I threw in some fire-roasted jalapenos and limes.
Ingredients
1 whole Chicken (about 5 lbs), rinsed, patted dry, and spatchcocked/butterflied
2 cups
Sunny D® Tangy Original
1 Tbsp Kosher salt
1 bunch Green onions (optional)
2 whole Limes (optional)
2 tsp Sugar (if using limes)
2 whole Jalapenos (optional)
Wet Rub
8 whole Allspice berries (or 1/4 tsp ground)
2 Tbsp Red wine vinegar
1 Tbsp Olive oil
1 Tbsp whole Mexican oregano, dried
1 Tbsp Garlic salt
2 tsp Chili powder (I used
Gebhardt's
)
1 tsp Cumin seed (or 1/2 tsp ground)
1 tsp Black peppercorns (or 1/2 tsp ground)
1 tsp Ground ancho chile
1/2 tsp Ground chile de Arbol (or cayenne)
1/4 tsp Ground coriander
1/8 tsp Ground smoked paprika
1/8 tsp Ground cinnamon
Method
Put the chicken in a gallon zip-top bag and add the Sunny D® and salt. Seal the bag while removing the excess air. Slosh the bag gently to combine. Put the bag in a lipped baking dish or sheet pan (to catch any leaks) and refrigerate six hours, or preferably overnight.
About 90 minutes before you want to serve, start your grill and prepare for indirect cooking over medium heat (300-350º).
While the grill is starting, make the wet rub. Combine the allspice berries, oregano, cumin seeds, and peppercorns in a spice grinder, grind fine, and pour into a small mixing bowl. Add the remaining wet rub ingredients to the bowl, whisk/stir well to combine, set aside.
Remove the chicken from the marinade, rinse well with cold water, and pat dry with paper towels. Smear the entire outside of the chicken on both sides with the wet rub.
Clean and dry the onions, jalapenos and limes. Trim the ends of the onions. Halve the limes and sprinkle the cut sides with sugar.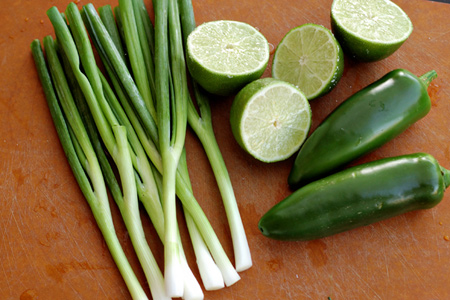 Grill the chicken indirect until the internal temperature in the thickest part of the thigh reaches 165º (about 60-75 minutes).
Just before the chicken is done grill the onions, limes and jalapenos on the direct heat side of the grill until each is nicely roasted, set aside.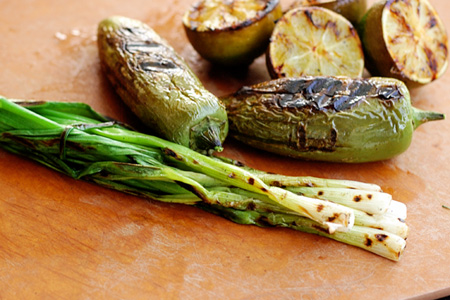 When the chicken reaches 165º in the thigh, remove it from the grill, let rest five minutes, and serve with the onions, limes, and jalapenos on the side.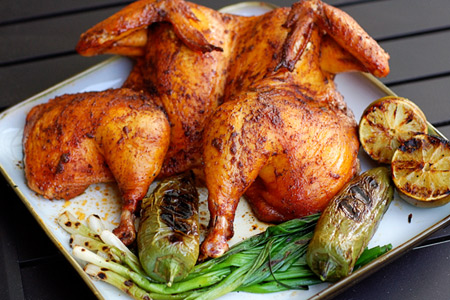 Enjoy!
(Makes about 4 servings)