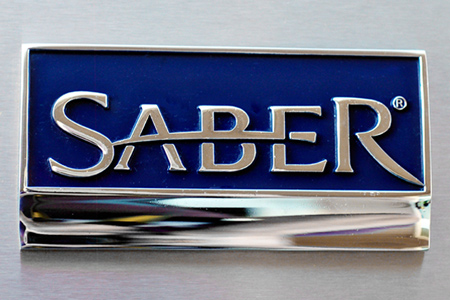 Earlier this spring the folks at SABER® Grills provided me one of their infrared gas grills to review. While I've historically not been a "gas guy", I must say that this grill has blown me away and it now occupies a prominent place in my grilling arsenal. Granted, I had to give an older grill away to make room on the patio, but this the only gas grill I need.
SABER® was formed in 2011 as a stand-alone company under W.C. Bradley, the parent company of Char-Broil®. Their sole mission was to engineer a better gas grill, so they wiped the slate clean of all preconceived notions and spent two years doing just that. The line consists of eight grills (including two built-in models) with a price range of $799 to $1699. They are distributed and sold through the
independent specialty outdoor retailer
channel.
I'll be very honest and say that based on my prior experience with Char-Broil products I was ambivalent about the SABER® line at first. However, that ambivalence was quickly dispensed as I opened the box and started to assemble the grill. First, the packing was so well done that it was almost a work of art. I know that may be an odd observance to some, but it really did make a great first impression. As I continued unpacking it the outstanding engineering and build quality became very apparent. They tout easy an easy 12-step assembly process that takes less than an hour and that was exactly what I experienced. I did fail to get the igniter wire positioned properly which caused a little backtracking, but that was the only bump in the road.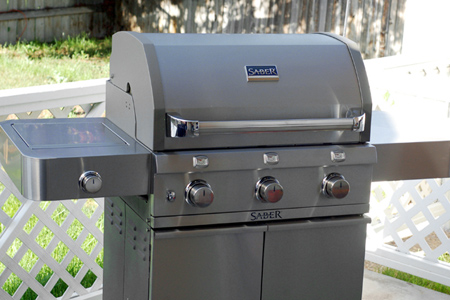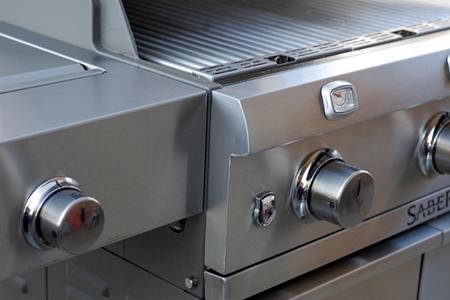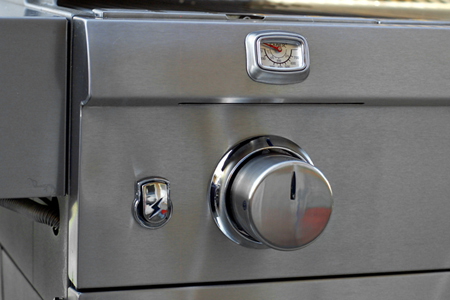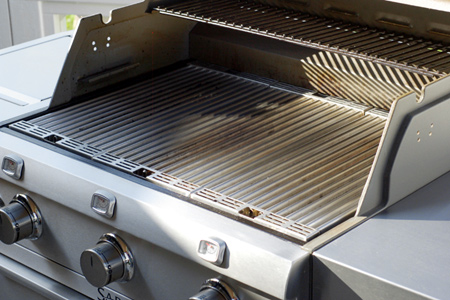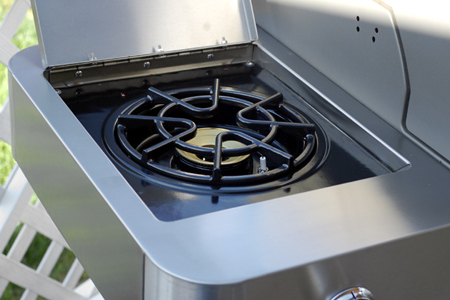 Here are some of the features (full specs
here
):
500 square inches of primary cooking area
Only commercial kitchen grade non-magnetic 304 stainless steel is used (including the burner tube, infrared emiters and grates)
Welded tubular cart and firebox frames
Sturdy side tables (bolted through the frame)
Separate self-contained heat zones
Electronic ignition at each burner
Full-size front access drawer-style drip pan
Heavy duty locking casters
Even pure infrared heat
Uses up to 30% less gas than similar gas grills
OK, enough about the technicalities, let's get down to how this bad boy cooks. Infrared has been "the new cool thing" in gas grills for a few years now. I've always thought it was overblown and largely a marketing gimmick, that is until now. In short infrared grills work by using a standard gas burner to heat an emitter (glass, ceramic or metal) that sits below the grate. The heat is dispersed across the emitter and the resulting radiant heat is transmitted to the grate. In the case of the SABER® the emitter is a perforated piece of stainless steel and the grates fit on top of the perforations such that you can't even see the burners below.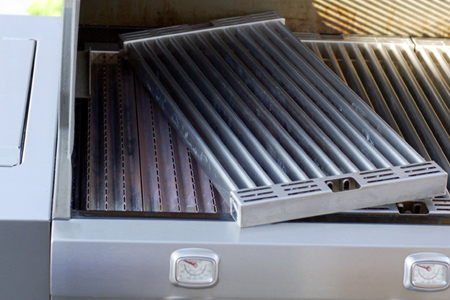 Why is this important? Well, it's almost a sealed cooking surface so the drippings that would normally fall through the grate and hit the burner are vaporized on the emitter. Also, the hot air that would normally come up through the grates is vented out of the front and back of each grate so that it doesn't dry out your food. The result is efficient even cooking that produces a juicier finished product, with absolutely zero flare-ups.You can also add wood chips or pellets between the grate rails to add smoke flavor.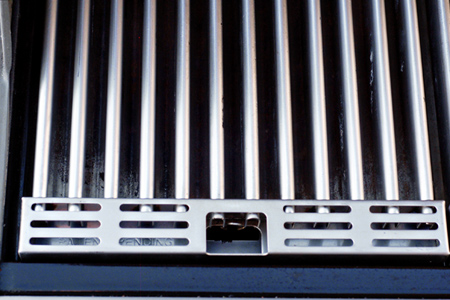 Infrared also allows higher cooking temperatures. How high? How does nearly 700º in about 10 minutes grab ya? High heat means better searing, and this thing sears like nobody's business! Check out this flank steak.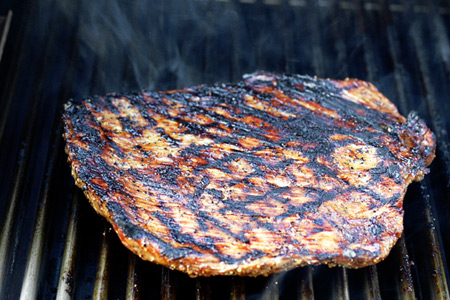 Because each cooking zone in independent you can cook at various temperatures side-by-side. This allows you cook more hearty and delicate foods at the same time. However in my testing there wasn't all that much difference in the heat of the zones. I set one burner to high, the next to medium and the last to low as shown below (15 minutes with the lid closed) and my temperature readings at the center of each grate were 680º, 620º, and 516º, respectively.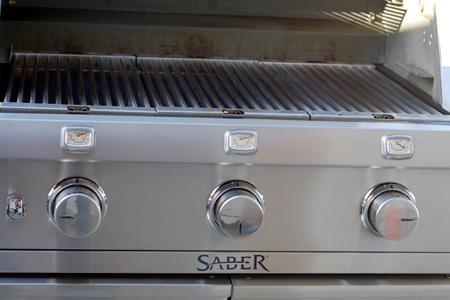 As you can see, the temperature gauges are woefully inaccurate, as is the case with old-school dial thermometers. The first two read over 700º and the low one read about 600º. A grill of this quality really should have more accurate gauges. That, and the fact that it's hard to cook at low temperatures are my only real complaints.
Another area where this grill shines is in ease of maintenance. I cooked on it heavily (3-5 times a week) for two months solid and really put it through its paces. The evidence of my heavy use looked like this: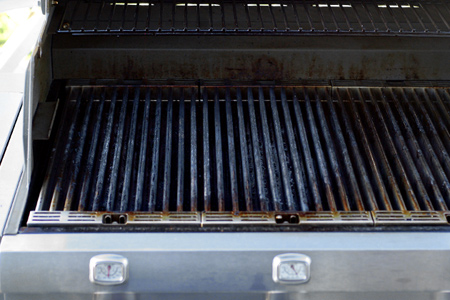 I wanted to see how much effort it would take to get the grill back to near-new condition. I simply sprayed the emitters and grates with oven cleaner and let them soak in a plastic bag for a few days. I rinsed them with a hose and hit them with a steel scrubber and voila!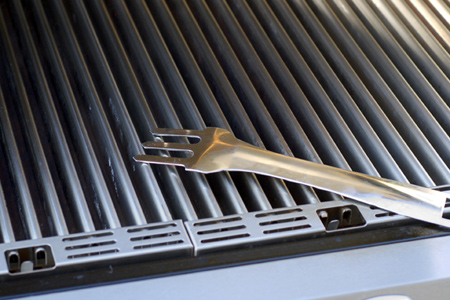 Pretty cool, huh? That tool comes with the grill and is what you use to scrape the grates and emitter channels between cooks.
The bottom line here is that if you're in the market for a premium gas grill without the super-premium price tag, look no further. This thing is beautiful, it's built like a tank, and it cooks like a dream. Find a
local dealer
and check one out in person.
Disclaimer:
I was provided this grill free of charge for the purposes of this review, but the thoughts expressed are solely my own.
Labels: review