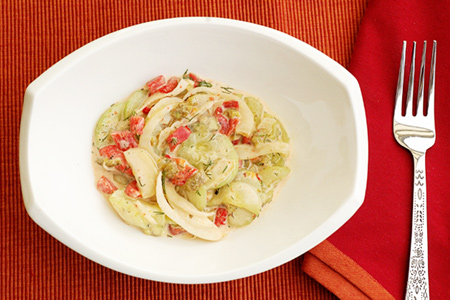 In my ongoing partnership with Hidden Valley® I'm bringing you a great fresh salad that is a little off the beaten path. Winter is in the books and it's time to get to grill. Most people don't associate the grill with salad, but fire-roasted veggies bring a welcome flavor and texture dimension to what might otherwise be a pedestrian dish.
I love cucumber salads! They are a wonderfully cool and crunchy complement to just about anything from the grill, and of course they're made for ranch. This salad adds the complex sweetness of fennel and red bell pepper with the subtle spiciness of jalapenos, all roasted on the grill. A little dill brings a bright herb note to the party.
Ingredients
2 Cucumbers, peeled and sliced to 1/8"
1 bulb Fennel, halved
1 Red bell pepper
1 Jalapeno pepper
1/2 cup
Hidden Valley® Original Ranch®
dressing
2 tsp Chopped fresh dill
Method
Start your grill and prepare for direct and indirect cooking over medium-high heat (about 350-400º).
Roast the fennel on the indirect portion of the grill, and the peppers on the direct side. Remove the fennel when it is slightly soft and set aside on a cutting board to cool. Continue grilling the peppers turning them until they are charred on all sides. Remove the peppers to a zip-top bag, seal, and set aside to cool 15-20 minutes.
Remove the peppers from the bag and slide the skins off under running cold water. Pull out the stems, slice the peppers in half, remove the veins and seeds, and dice the pepper flesh. Combine with the cucumber in a medium mixing bowl.
Note:
The heat of jalapeno peppers varies, so use more or less according your taste and heat tolerance.
Slice the fennel to 1/8" and add it, the ranch dressing, and the dill to the bowl. Stir well and refrigerate at least 30 minutes, stirring occasionally.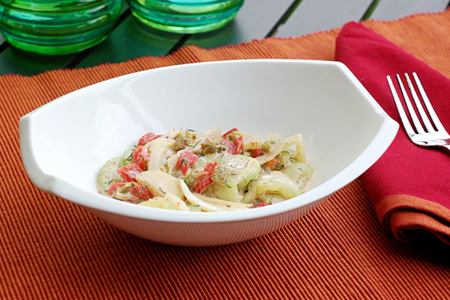 Serve and enjoy!
(Makes 6 servings)
Disclaimer:
I'm a compensated partner of
Hidden Valley®
.
Labels: hidden valley, recipe, salad