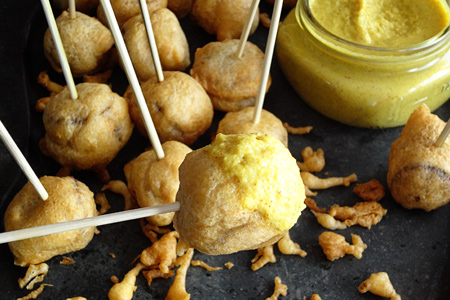 The great folks at
Johnsonville
recently sent me some of their limited-edition Cheddar Cheese & Bacon brats (available at WalMart), so I came up with this recipe just in time for the big game. These are a great way to serve brats to a crowd in a way that's fun, festive and finger-food-friendly.
Most folks know that boiling brats in beer with onions and then grilling them is the traditional preparation. Well, I reversed the process by grilling the sausages just until they are barely done, slice them into two-bite portions, then I dunk them in a hearty beer batter and let them take a deep-fry swim until they are golden brown and slighly crispy. I serve these lolipop-style on skewers with a spicy sauerkraut mustard.
Enjoy these and tip your cardiologist (he'll be jealous).
Ingredients
1 package (19 oz)
Johnsonville
Cheddar Cheese & Bacon brats
1 Egg white
1 cup All-purpose flour, sifted
1 cup + 2 Tbsp Ale (such as
Shock Top Belgian White
)
1 tsp Baking powder
1 tsp Seasoned salt
2 Tbsp Corn starch
1/4 cup Spicy brown mustard
1/4 cup Yellow mustard
1/4 cup Sauerkraut, undrained
1/4 cup Applesauce
4 cups Peanut or canola oil for frying
Method
Start your grill and prepare for indirect cooking over medium heat (325-350º).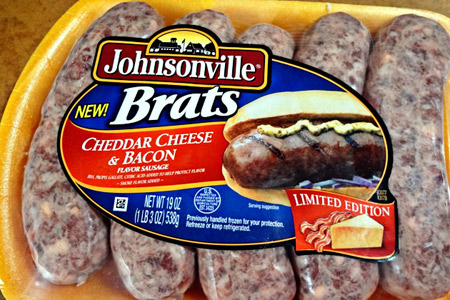 Grill the brats indirect for about 15-20 minutes, or until the internal temperature reaches 145º. Remove the sausages from the grill to a platter and let cool.
Heat the frying oil in a large heavy pot (I recommend cast iron) to 360º.
In a medium mixing bowl beat the egg white to light peaks. Add the flour, ale, baking powder and seasoned salt. Whisk to combine and set aside.
When the oil is ready, slice each of the warm sausages into five equally sized pieces and toss them with the corn starch in a medium bowl.
Working in batches of five, use a skewer to remove each piece of sausage from the corn starch, knocking off the excess. Coat each piece completely in the beer batter and carefully drop them into the oil, waiting a few seconds in between. Fry the brats until they are golden brown. Remove to a wire rack inside a lipped sheet pan that's lined with several layers of paper towels.
Combine both mustards, the sauerkraut and applesauce in a small bowl. Blend well with an immersion blender until smooth.
Serve the sausage on small skewers with the mustard for dipping.
Enjoy!