Unknown
Permanent Link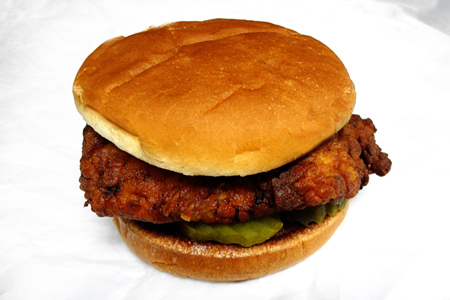 We're all familiar with the original chicken sandwich, right? You know the ones that are served at the really clean, really fast restaurants with a twice-hyphenated name and advertisements that feature grammatically-challenged cows? Yeah, that one!
I had my first such sandwich just a little over a month ago, as they've just recently expanded to Boise. I found that, like a certain West coast burger chain with a cult following (also with a twice-hyphenated name), the food and service were great, but it didn't rise to the level of the religious experience espoused by their regulars.
And what is it with the dual hyphens? Is that the secret? I digress... Here for your handheld fried poultry enjoyment is my version of said chicken sandwich.
Ingredients
2 large Boneless skinless chicken breasts
1 cup Buttermilk
1/2 cup Your favorite hot sauce (I used
Frank's® RedHot® Original
)
2 Tbsp Kosher salt, divided
2 cups Peanut oil for frying (or canola oil)
1 cup Flour, all-purpose
1 Tbsp Powdered sugar
2 tsp Black pepper, ground fresh
2 tsp Smoked paprika
2 tsp Ground cayenne
4 Plain hamburger buns
4 Tbsp Butter, softened
16 Dill pickle slices
Method
Pound the thick end of each chicken breast until the entire breast is of equal thickness, cut each breast in half width-wise and put the pieces in a gallon size zip-top bag. Add the buttermilk, hot sauce and 1 tablespoon of the salt to the bag. Slosh the bag gently to combine all of the ingredients and to coat the chicken completely. Seal the bag while removing as much of the excess air as possible. Place the bag in a lipped pan (to catch any leakage) and refrigerate at least six hours, or overnight.
Starting about 30 minutes before you want to serve, heat the oil to 350º in a large heavy skillet (I recommend cast iron).
While the oil is heating, combine the flour, powdered sugar, remaining salt, pepper, paprika and cayenne in a medium bowl and mix well. Remove a chicken piece from the buttermilk marinade and shake off the excess. Dredge the chicken in the flour until it is completely covered. Shake off the excess flour and set aside on a platter. Repeat with the remaining chicken pieces. Let the chicken sit at least 10 minutes before frying to ensure that the flour adheres well.
Working in batches of two if needed, fry the chicken pieces for 4-6 minutes, or until they are nicely browned and the internal temperature is 160º. Remove the pieces to a wire rack that's placed inside a sheet pan. If you're working in batches, put the sheet pan in a 170º oven.
Spread the butter evenly over the cut sides of both halves of each bun and toast under your broiler.
Assemble the sandwiches by putting four pickle slices on the bottom half of each bun, add a piece of chicken, and the bun top.
Serve and enjoy!
Oh, and if you want some of that killer sauce, simply whisk together 1 cup of mayonnaise, 2 tablespoons of your favorite sweet barbecue sauce, 1 tablespoon plain yellow mustard, 1 tablespoon dill pickle juice, 1 tablespoon honey, and 1/2 teaspoon smoked paprika. Done! It makes a lot, but you'll use it, I promise.