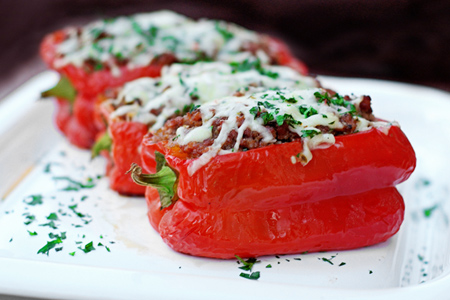 I really can't believe that it's been over three years since I've cooked stuffed peppers in any manner, let alone on the grill. Now that fall is thankfully upon us (I love fall), I thought it high time that I revisit and revise my previous recipe.
Note:
I apologize profusely for the pictures of
my last stuffed pepper outing
. Can you tell that those were the early days of the blog? Oy! Let's all pretend that never happened, OK? Besides, this recipe blows the doors and roof off of those.
My wife's comment about these was, "These are the best thing that you've made in a long time." That's high praise, but it makes me wonder about everything that I've cooked in the intervening "long time". Oh well... I'm sure she was just over-exaggerating.
Ingredients
2 Tbsp Peanut (or canola) oil
1 medium Yellow onion, diced (about 1 1/2 cups)
1 1/2 cups Sliced crimini ("baby bella") mushrooms
1 Tbsp Worcestershire sauce
1 tsp Garlic salt
1/2 tsp Black pepper, ground fresh
1 cans (14.5 oz) Diced tomatoes
1 lb Ground beef, 80/20
1 lb Ground pork
2 tsp McCormick® Montreal Steak Seasoning
6 large Red bell peppers, even in size and shape
3 cups Grate pepper-jack cheese, divided
Italian parsley, chopped fresh (optional for garnish)
Method
Heat a large saute pan over medium-high heat, then add the oil.
Add the onions to the pan and saute three minutes, or until barely translucent.
Add the mushrooms, garlic salt, pepper, and Worcestershire sauce. Saute five minutes.
Add the tomatoes and saute three minutes more.
Remove the mixture from the pan, set aside and let cool.
Return the pan to the heat and add the beef, pork, and Montreal seasoning. Cook until the meat is lightly browned. Do not drain the liquid!
Remove the pan from the heat, cover, and set aside.
Start your fire and prepare for indirect cooking at medium-high heat (about 350º).
While your grill is starting, cut the side or top off of each pepper (about 3/4"), and remove the veins and seeds.
Add the mushroom and onion mixture to the meat, add 1 1/2 cup of the cheese and stir to combine.
Fill each pepper with the filling until it's just barely mounded over the top of the pepper.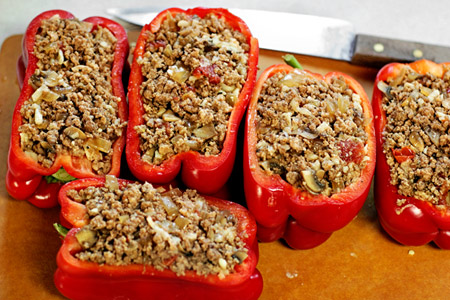 Grill the peppers indirect for 45 minutes.
Top each of the peppers with an equal amount of the remaining grated cheese and the parsley.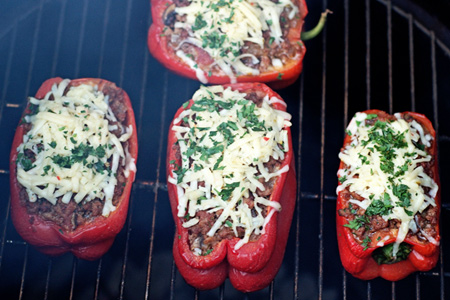 Cook the peppers 15 minutes longer, or until the cheese is nicely melted.
Remove the peppers to a platter, tent loosely with foil and let cool five minutes.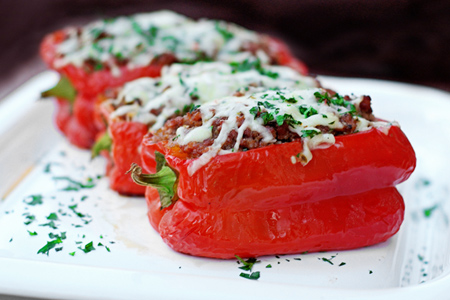 Serve and enjoy!