Unknown
Permanent Link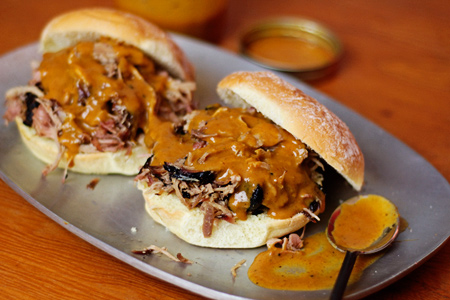 In the U.S. there are a handful of regional barbecue influences, and one of them is the Carolinas. The central portion of South Carolina is known for their mustard-based sauces. This is my interpretation of a South Carolina mustard sauce.
As the name implies, this is a bold sauce, but it's not an in-your-face blast of mustard and heat. Instead, I'd like to think that it's refined, mellow, but yet it lets its roots shine. Think of it as a down home sauce in its best Sunday overalls. It really is magic on pork.
I served this to a bunch of guys at a church retreat to good reviews. My girls also like it, which is a testament to it not being too bold.
Ingredients
1/4 cup Spicy brown mustard (I used French's)
1/4 cup Prepared yellow mustard (also French's)
1/3 cup Apple cider vinegar
1/3 cup Apple sauce, unsweetened
1/4 cup Honey
3 Tbsp Molasses, unsulphered
1 Tbsp Worcestershire sauce
1 tsp Black pepper, ground fresh
1/2 tsp Garlic salt
1/2 tsp Granulated onion (not "powder")
1/4 tsp Ground chipotle
1/2 tsp Ground paprika
1/8 tsp Ground cinnamon
Method
Combine all of the ingredients in a mixing bowl and whisk to combine. Blend with a immersion/stick blender.
Cover and refrigerate for up to a month.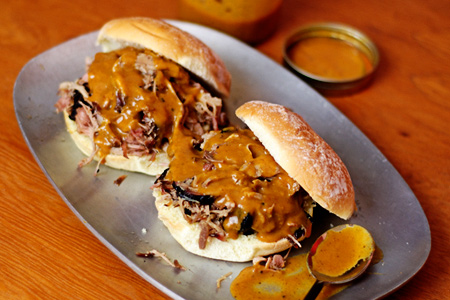 Makes about 2 cups