Unknown
Permanent Link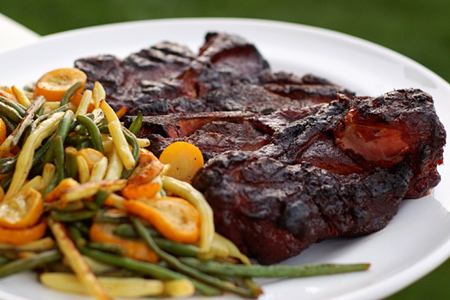 Having been partially raised in Columbia, Missouri I thought it high time that I feature a great grilled staple of the region -- pork steaks. St. Louis pork steaks are "steaks" that are cut from a pork butt. They are typically seared over a hot charcoal fire and then braised in a mixture of beer and barbecue sauce. How can you possibly go wrong with that?
These are really simple, but the results are spectacular. I use a basic "Dalmation" (salt and pepper) seasoning with a little garlic. I'd urge those of you that are barbecue masters to resist the urge to over-complicate things by adding a bunch of extra ingredients.
You want steaks that are cut at least an inch thick, but I prefer 1 1/4". If you can't find them in the case at your local store (they're typically labeled as "blade steaks"), just ask the butcher to cut some from a pork butt.
OK, let's get this show on the road.
Ingredients
4 large Pork steaks, 1 1/4" thick
3 Tbs Kosher salt
1 1/2 Tbs Black pepper, ground fresh
2 tsp Granulated garlic (not "powdered")
16 oz Beer (I used
Bud Light
)
18 oz Your favorite barbecue sauce (I used
KC Masterpiece Sweet & Tangy
)
Note:
You'll also need two 9×13 disposable aluminum roaster pans.
Method
Combine the salt, pepper and garlic in a small bowl and mix well.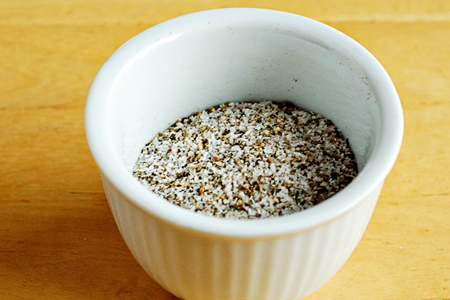 Season both sides of each steak liberally with the seasoning, then place them in zip-top bags and refrigerate at least three hours, or overnight.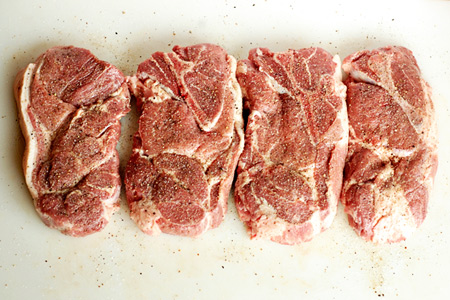 Start your grill and prepare for direct cooking over high heat (450-500º). Sear the steaks on each side.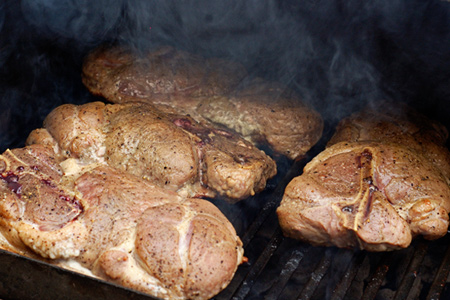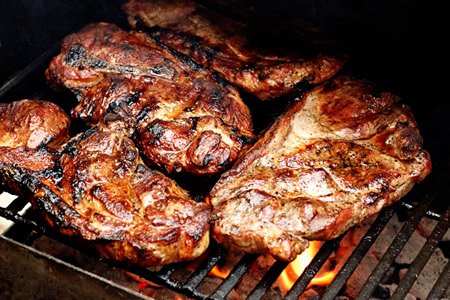 While the steaks are searing, combine the beer and barbecue sauce in a large bowl and whisk to combine.
Put the steaks in a single layer into the disposable aluminum pans and cover them with the beer mixture, putting half of the beer and barbecue sauce mixture into each pan.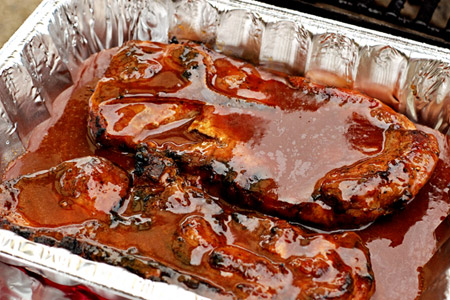 Cover the pans tightly with foil.
Move your coals to one side of the grill for indirect cooking. Put the pans on the side of the grill opposite the coals and cook, indirect, for 90 minutes.
Note:
Add charcoal as needed to keep the temperature at about 350º throughout the rest of the cooking time.
Remove the steaks from the pans and quickly sear them over direct heat (about 2 minutes per side). Remove to a platter and let rest for about five minutes.
Serve and enjoy!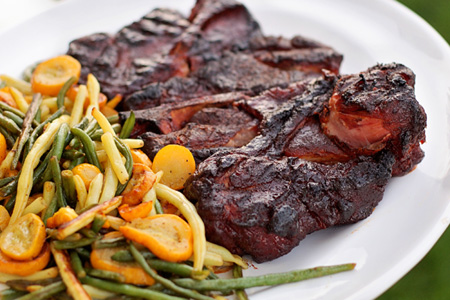 Makes about 6 servings