Unknown
Permanent Link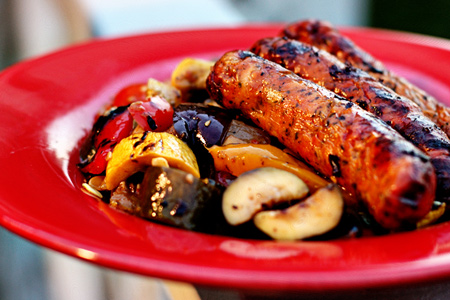 The word ratatouille in America these days is probably first known as the popular animated movie by the same name. However, this grilled version of the French classic side dish is a great way to make use of both your grill and the summer's vegetable harvest.
Ratatouille in its simplest form is a mixture of sauteed vegetables and herbs. You'd be hard-pressed to find a single recipe that chefs would agree upon. So, I'm more than happy to throw my griller hat into the ring with my own version.
This is a great side dish that would be welcome with most grilled carnage. In my case I served it with some grilled chicken sausage to make a nice light and healthy summer meal. You could also toss this into some pasta or pile it on some rice. I think it would also be outstanding with a little bit of cheese in an omelette.
Ingredients
4 Zucchini, quartered lengthwise
4 Roma tomatoes, halved and seeded
3 Yellow squash, quartered lengthwise
2 Red bell peppers, seeded and cut lengthwise into sixths
2 Yellow bell peppers, seeded and cut lengthwise into sixths
1 Eggplant, quartered lengthwise
1 large Red onion, peeled and cut into sixths (wedges)
1/4 cup Extra virgin olive oil
2 tsp Sea salt, medium grind
2 tsp Black pepper, ground fresh
1 tsp Garlic salt
10 sprigs Thyme leaves, fresh
Note:
You could also use whole cherry or grape tomatoes.
Method
Combine all of the ingredients, except the thyme, in a large mixing bowl and toss so that everything is coated with oil and well combined. Set aside.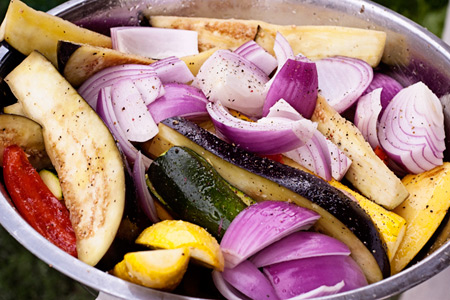 Start your grill and prepare for direct cooking over medium heat (350-375º).
When the grill is ready, spread all of the vegetables on the grate in an even layer. Cook with the lid closed about five minutes. Keep the mixing bowl available.
Gently flip the pile of veggies over and cook, with the lid closed, about another 5-10 minutes, or until the peppers and onions are soft.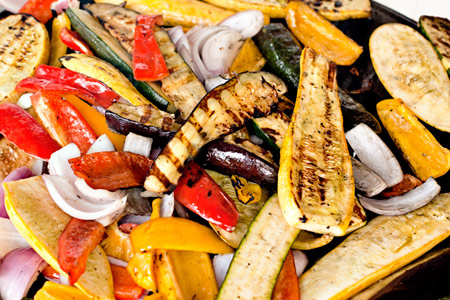 Remove the vegetables from the grill and into the same mixing bowl that you started with, add the thyme leaves and gently fold to combine.
Pour the vegetables onto a large cutting board and chop them into bite-sized pieces, then return them to the bowl.
Serve and enjoy!
Makes about 8 servings
Labels: competition, recipe, side